Set 2 Photographs of New England Lakes --- Lake Champlain
Bob Jensen at Trinity University
Once each year I thoroughly clean my studio that is mostly used to store books, pictures, and antiques.
I have an office in this studio, but since Erika needs me close by these days I moved my main office inside the cottage.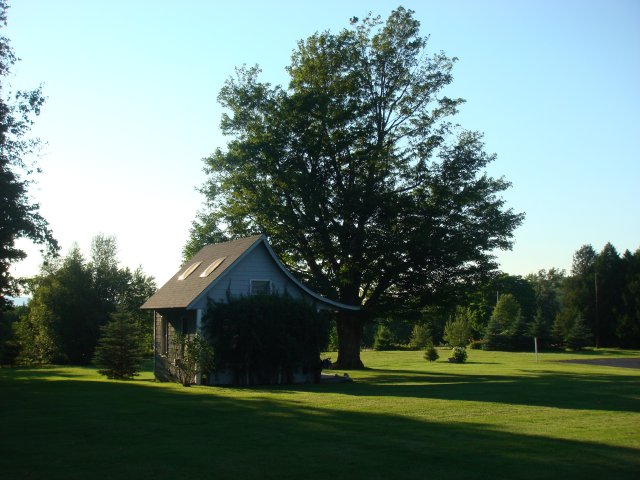 Whenever I clean the studio I encounter pictures that I'd long since forgotten. Here are some examples of older pictures.
My Grandfather Julius Jensen died of pneumonia when my dad was only two years old. His wife, Regina, and her five sons carried on
farming a 240 acre farm in Senaca, Iowa. In the picture below my Grandma Jensen (Regina) is pictured in 1925 with four of her five sons
Ralph, Millen, Linus, and my father Vernon when he was 14 years old. The oldest brother, George, was married and farmed nearby.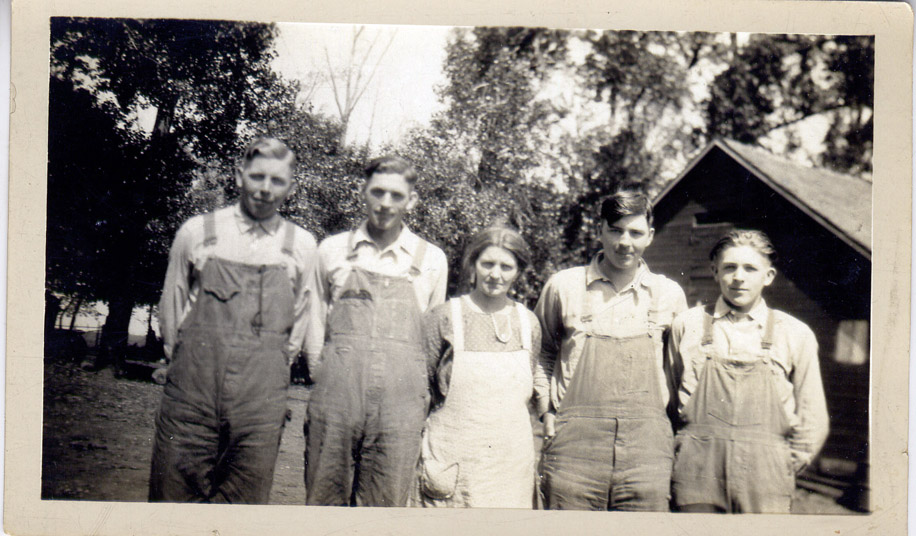 Regina (Ginny) Jensen was born into a Knutson family in Norway before the family emigrated to Iowa in the 1800s in search
of the rich black dirt of the Iowa prairie. She was raised on her family's farm north of Swea City ---
http://www.cs.trinity.edu/rjensen/PictureHistory/Years1900-1950/Ancestors01.htm
When she became a young woman and a school teacher she married Julius Jensen and
moved onto his farm in Seneca township. My father, Vernon, was the youngest of her five sons.
In 1995 my father asked me to write about the first trip he'd ever taken from the farm.
Touring Canada in a Model T
Vernon's Recollections of an Adventure in 1925
http://www.trinity.edu/rjensen/vernon.htm
This is my Dad with a team of Percheron team (Bill and Barnie) in 1996 on Cousin Don's farm in Iowa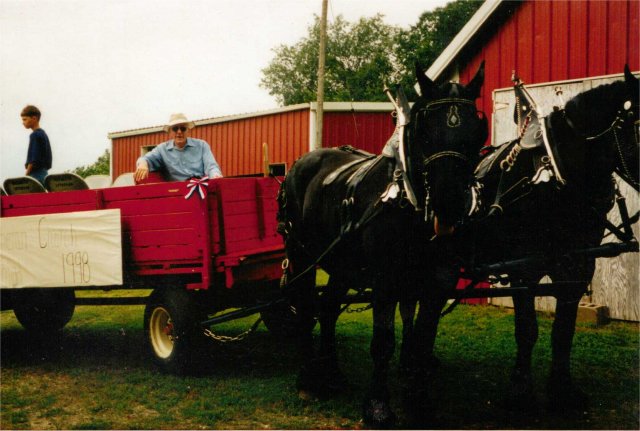 Erika and I are in this 1988 picture with my mother (Irene) who died in 1996
When I was growing up she supplemented the family income by giving piano lessons
as well as playing the Wurlitzer at the Emmetsburg Roller Rink on Saturday nights and
the Hammond organ at the Algona First Lutheran Church on Sunday mornings.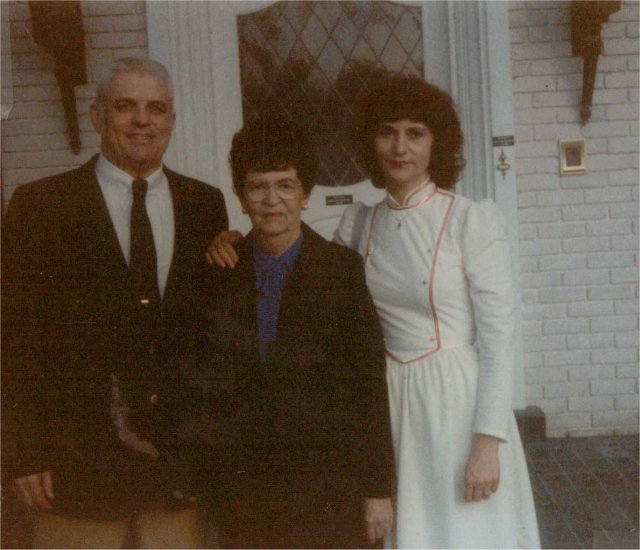 This is the second of my sets of photographs of New England lakes. Set 2 features Lake Champlain bordered by
Vermont, New York, and Quebec. It is both the most historic and largest lake bordering on New England. The lake has
80 islands, four of whom contain entire Vermont towns. The lake is approximately 125 miles long and 23 miles wide
at its widest point. Part of the lake goes down over 400 feet. It is nearly 500 square miles making it one of the USA'a largest
bodies of fresh water apart from the Great Lakes in the Midwest. Only portions of the lake freeze in the winter.
The lake is a source of household water for over a third of the population of Vermont.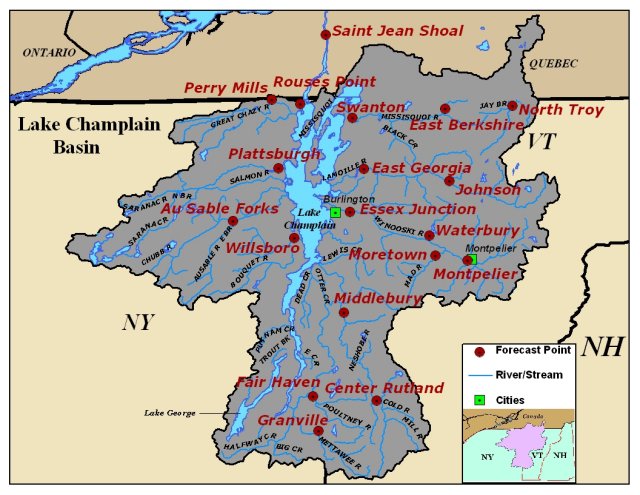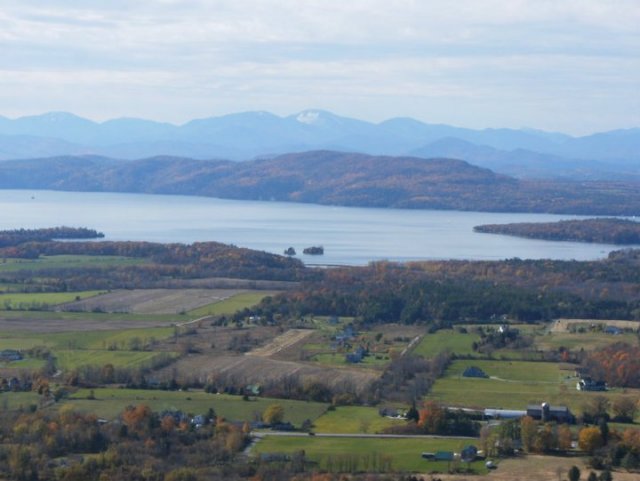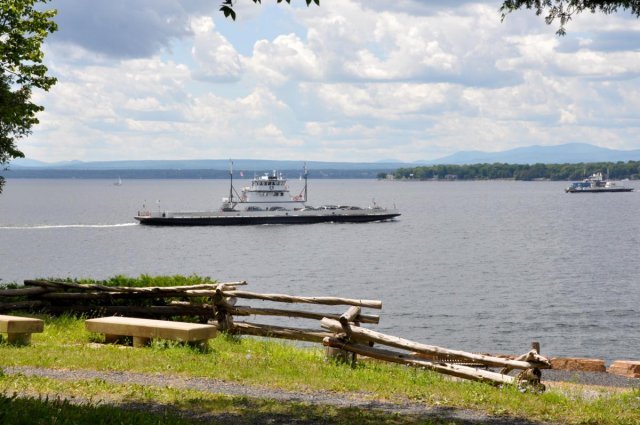 There are a number of car and truck ferries on Lake Champlain, including ferries between
We have only taken the ferry between Burlington and Port Kent in upstate New York, not
far from Lake Placid. There are also cruises that depart and return to the same port
such as the Northern Lights tourist cruise.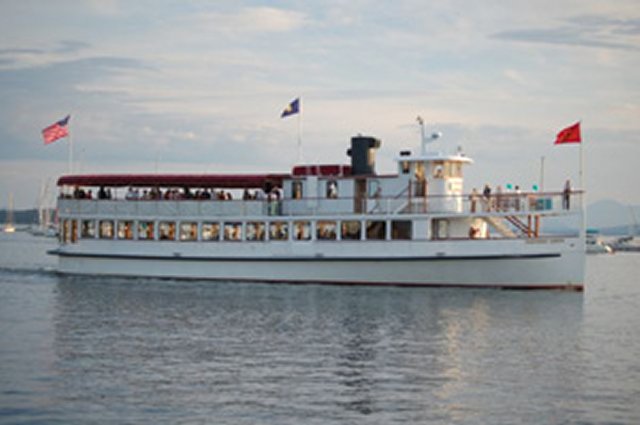 Below is a historic photograph of the Port Kent, NY harbor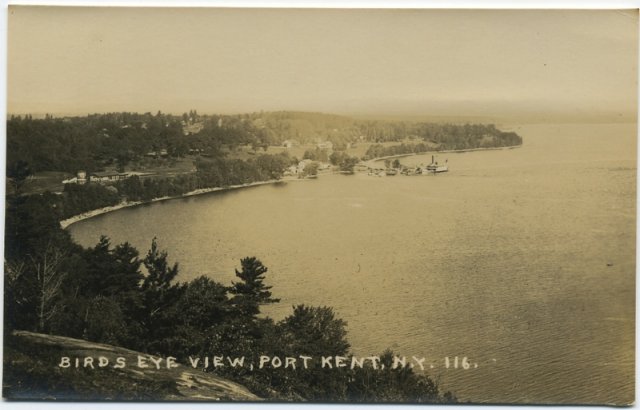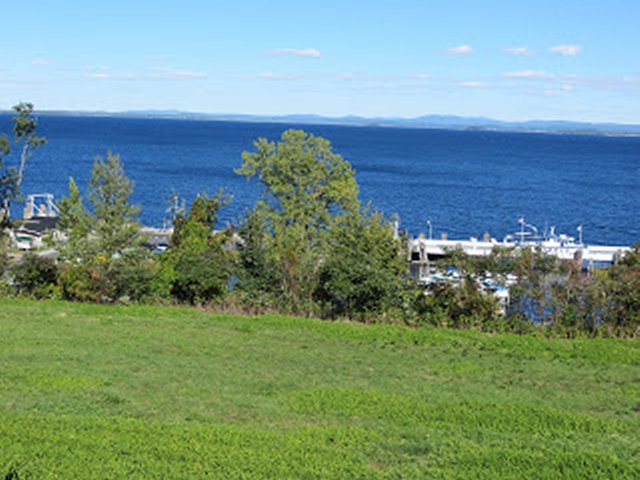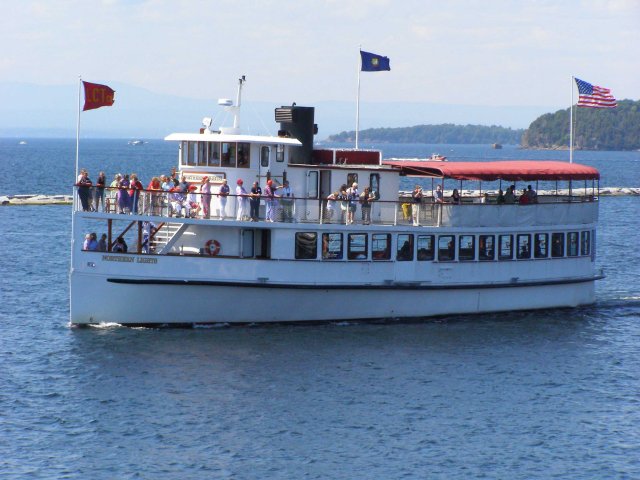 This is the Port Kent ferry terminal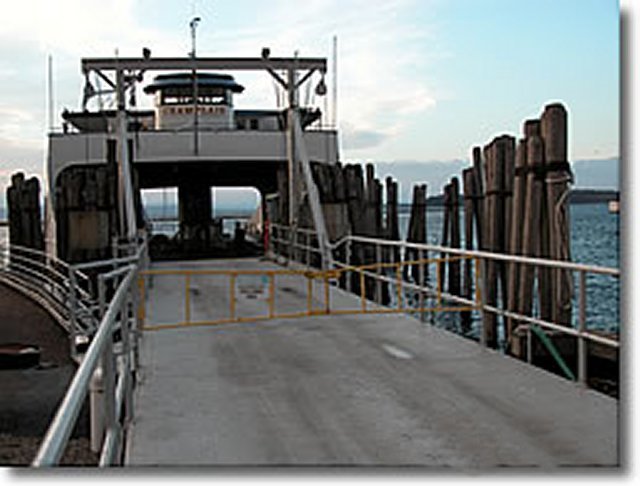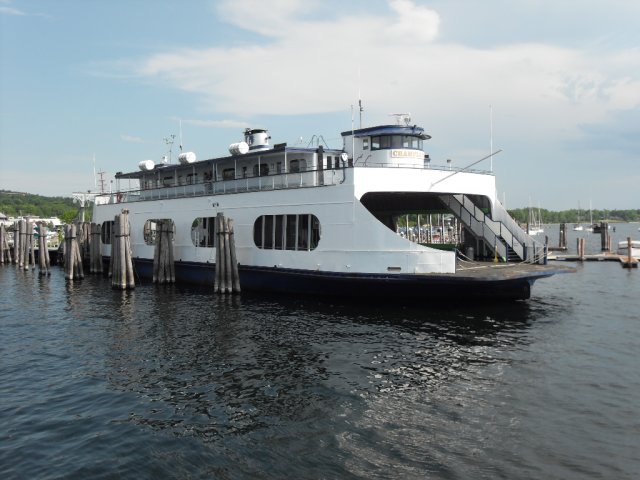 Here are shots of the Burlington shoreline as seen from the ferry.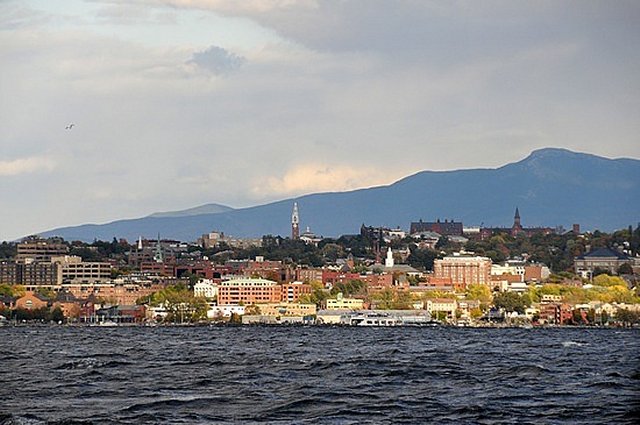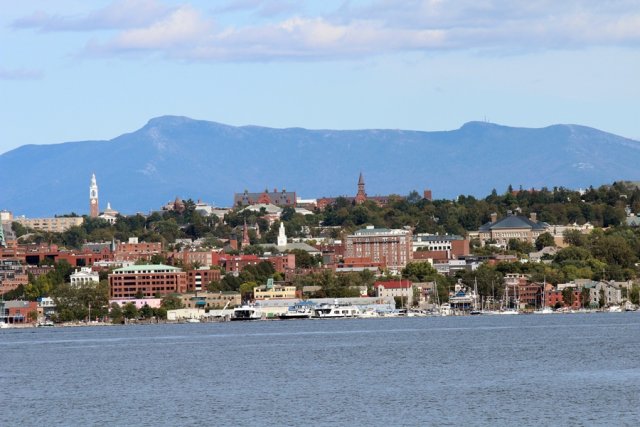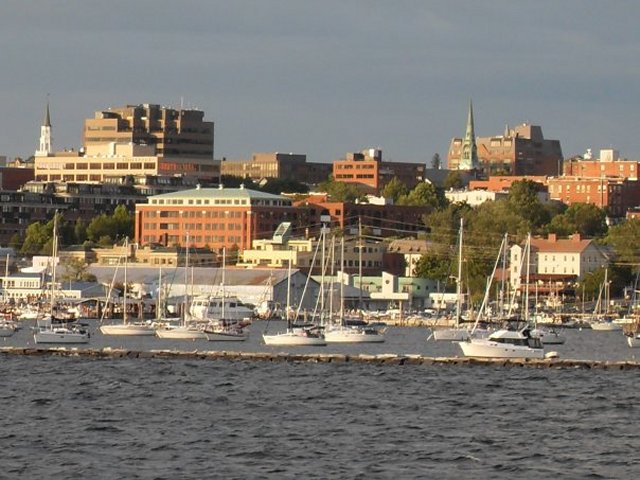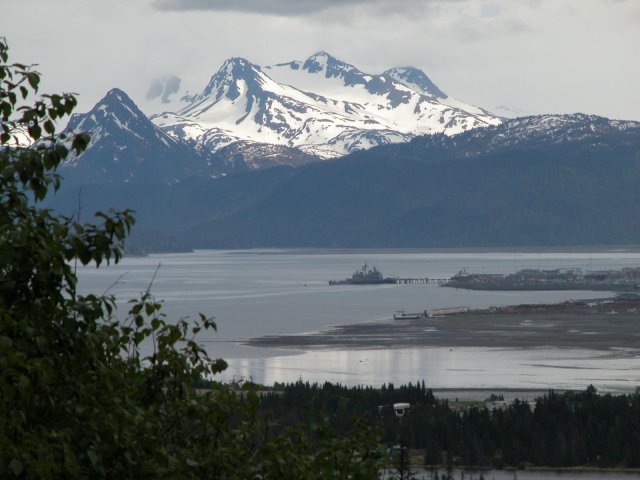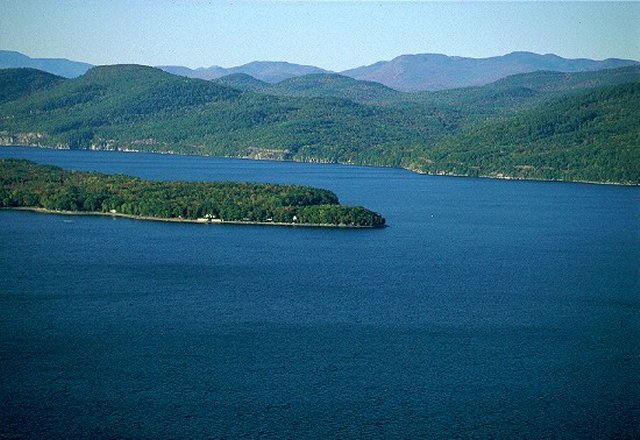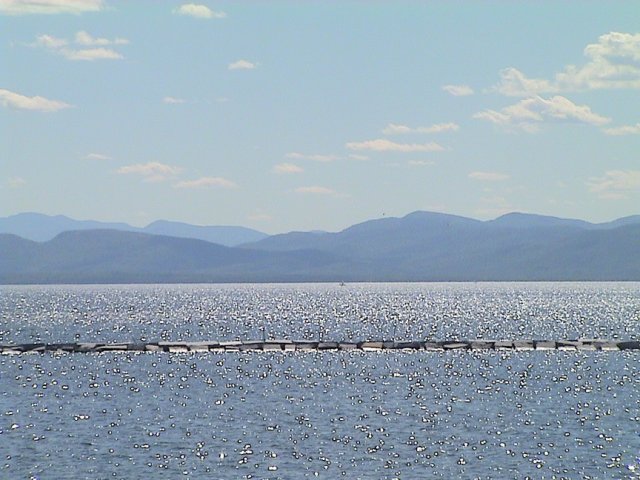 Lake Champlain ---
http://en.wikipedia.org/wiki/Lake_Champlain
Lake Champlain (French: Lac Champlain) is a natural, freshwater lake in North America, located mainly within the borders of the United States (states of Vermont and New York) but partially situated across the Canada-United States border in the Canadian province of Quebec.

The New York portion of the Champlain Valley includes the eastern portions of Clinton County and Essex County. Most of this area is part of the Adirondack Park. There are recreational opportunities in the park and along the relatively undeveloped coastline of Lake Champlain. The cities of Plattsburgh and Burlington are to the north and the village of Ticonderoga in the southern part of the region. The Quebec portion is located in the regional county municipalities of Le Haut-Richelieu and Brome-Missisquoi.

Geology

The Champlain Valley is the northernmost unit of a landform system known as the Great Appalachian Valley, which system stretches from Quebec to Alabama. The Champlain Valley itself is a physiographic section of the larger Saint Lawrence Valley, which in turn is part of the larger Appalachian physiographic division.[1]

It is one of numerous large lakes in an arc from Labrador through the northern United States and into the Northwest Territories of Canada. Although it is smaller than the Great Lakes of Ontario, Erie, Huron, Superior, or Michigan, Lake Champlain is a large body of fresh water. Approximately 1,269 km2 (490 sq mi) in area, the lake is roughly 201 km (125 mi) long, and 23 km (14 mi) across at its widest point.[2][3] The maximum depth is approximately 400 feet (120 m). The lake varies seasonally from about 95 to 100 ft (29 to 30 m) above mean sea level.[4]

Hydrology

Lake Champlain is situated in the Lake Champlain Valley between the Green Mountains of Vermont and the Adirondack Mountains of New York, drained northward by the 106 miles (171 km) long Richelieu River into the St. Lawrence River at Sorel-Tracy, Quebec northeast and downstream of Montreal. It also receives the waters from the 32 miles (51 km)-long Lake George, so its basin collects waters from the northwestern slopes of the Green Mountains of Vermont, and the northernmost eastern peaks of the Adirondack Mountains of New York State.

The lake drains nearly half of Vermont. About 250,000 people get their drinking water from the lake.[5]

The lake is fed by Otter Creek, the Winooski, Poultney, Missisquoi, and Lamoille Rivers in Vermont, and the Ausable, Chazy, Boquet, Saranac and La Chute rivers in New York. Lake Champlain also receives water from Lake George via the La Chute River.

It is connected to the Hudson River by the Champlain Canal.

Portions of the lake freeze each winter, and in some winters the entire lake surface freezes, referred to as "closing".[6] The lake temperature reaches an average of 70 °F (21 °C) in July and August.[7]

Chazy Reef

The Chazy Reef is an extensive Ordovician carbonate rock formation which extends from Tennessee to Quebec and Newfoundland. It occurs in prominent outcropping at Goodsell Ridge, Isle La Motte, the northernmost island in Lake Champlain.

The oldest reefs are around "The Head" of the south end of the island; slightly younger reefs are found at the Fisk Quarry; and the youngest (the famous coral reefs) are located in fields to the north.[8] Together, these three sites provide a unique narrative of events which took place over 450 million years ago in the ocean in the Southern Hemisphere, long before the emergence of Lake Champlain 20 thousand years ago.

History

The lake was named after the French explorer Samuel de Champlain, who encountered it in 1609. While the ports of Burlington, Vermont; Port Henry, New York; and Plattsburgh, New York are little used nowadays except by small craft, ferries and lake cruise ships, they had substantial commercial and military importance in the 18th and 19th centuries.

There is conflicting information on Native American names for the lake. Many historical works give Caniaderi Guarunte as the Iroquois name for the lake (meaning: mouth or door of the country), because the waterway was an important northern gateway to their lands. A number of other sources give Petonbowk (meaning the lake in between) as the Algonquian Abenaki name for the lake.The St. Francis/Sokoki Abenaki Band, who make their home along the Masipskiwibi (Missisquoi, "Crooked River") River in northwestern Vermont call the lake Bitawbagok, the same meaning as Petonbowk. Some recent articles appeared during the Champlain Quadricentennial (2009) claiming Ondakina as the "local" native name for the lake, but none cites a verifiable source.

Colonial America and the Revolutionary War

In colonial times, Lake Champlain provided an easily traversed water (or, in winter, ice) passage between the Saint Lawrence and the Hudson Valleys. Travelers preferred to use boats and sledges on the lake rather than go by the unpaved and frequently mud-bound roads of the time. The northern tip of the lake at Saint-Jean-sur-Richelieu, Quebec (St. John in colonial times) is a short distance from Montreal. The southern tip at Whitehall (Skenesborough in revolutionary times) is a short distance from Saratoga, Glens Falls, and Albany, New York.

Continued in article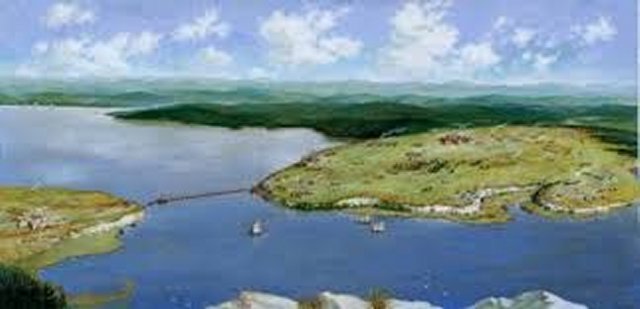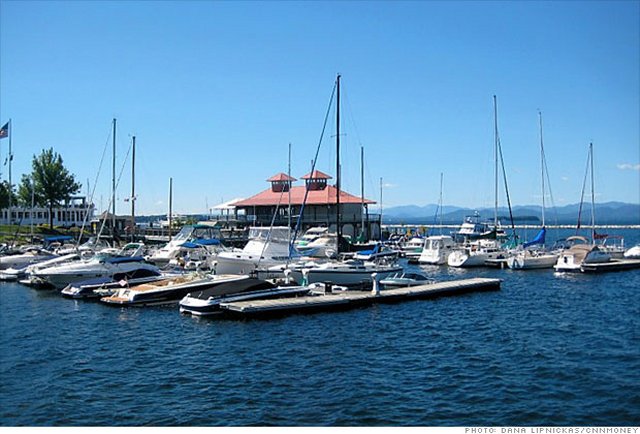 Photographs of Vergennes (Oldest Village in Vermont) --- http://cdi.uvm.edu/collections/getCollection.xql?pid=bixby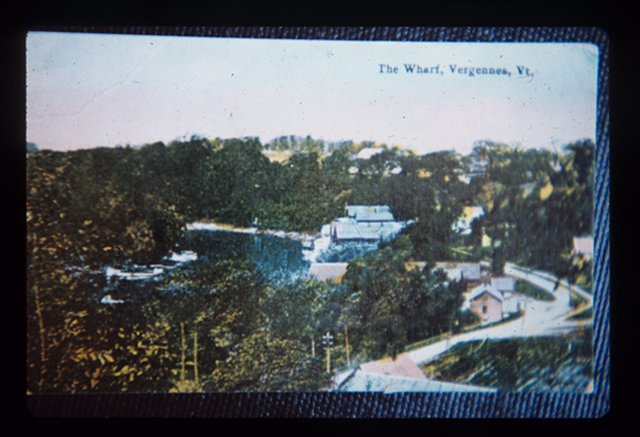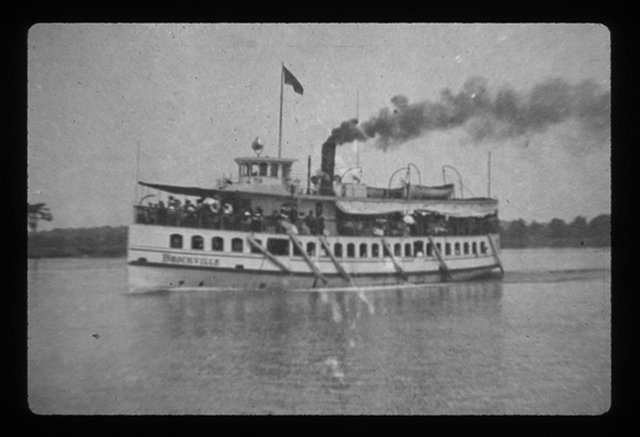 Vermont Historical Society --- http://www.vermonthistory.org/
Bob Jensen's Photographs of Vermont --- www.trinity.edu/rjensen/tidbits/States/Vermont/Set01/Vermont01.htm
Bob Jensen's Photographs of Lake Winnipesaukee --- http://www.trinity.edu/rjensen/tidbits/Lakes/Set01/LakesSet01.htm
Lakes in New Hampshire --- http://en.wikipedia.org/wiki/Lakes_in_New_Hampshire
Oceans in My Life (Including My Navy Days)
http://www.trinity.edu/rjensen/Tidbits/Ocean/Set01/OceanSet01.htm
More of Bob Jensen's Pictures and Stories
http://www.trinity.edu/rjensen/Pictures.htm
On May 14, 2006 I retired from Trinity University after a long and wonderful career as an accounting professor in four universities. I was generously granted "Emeritus" status by the Trustees of Trinity University. My wife and I now live in a cottage in the White Mountains of New Hampshire ---
http://www.trinity.edu/rjensen/NHcottage/NHcottage.htm
Bob Jensen's Blogs --- http://www.trinity.edu/rjensen/JensenBlogs.htm
Current and past editions of my newsletter called New Bookmarks --- http://www.trinity.edu/rjensen/bookurl.htm
Current and past editions of my newsletter called Tidbits --- http://www.trinity.edu/rjensen/TidbitsDirectory.htm
Current and past editions of my newsletter called Fraud Updates --- http://www.trinity.edu/rjensen/FraudUpdates.htm
Bob Jensen's past presentations and lectures --- http://www.trinity.edu/rjensen/resume.htm#Presentations
Our address is 190 Sunset Hill Road, Sugar Hill, New Hampshire
Our cottage was known as the Brayton Cottage in the early 1900s
Sunset Hill is a ridge overlooking with New Hampshire's White Mountains to the East
and Vermont's Green Mountains to the West
Bob Jensen's Threads --- http://www.trinity.edu/rjensen/threads.htm
Bob Jensen's Home Page --- http://www.trinity.edu/rjensen/