Set 4 of My Photographs of New England Lakes ---
Squam (Keeseenunknipee) Lake Better Known as Hollywood's Golden Pond
Bob Jensen at Trinity University
While parts of the USA are sweltering in heat, our furnace kicked on every night last week.
In total this has been a fabulous cool summer with well-timed rains that leaves our lawn as lush
in August as it was in early June. It should be a great color season coming up in October.
At the moment in August, however, it's at great hydrangea season.
Can you find the moon coming up before sunset?
I took this picture through the window in front of my desk.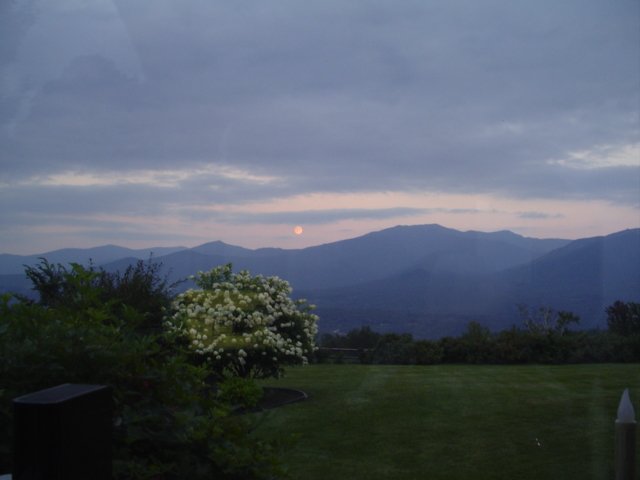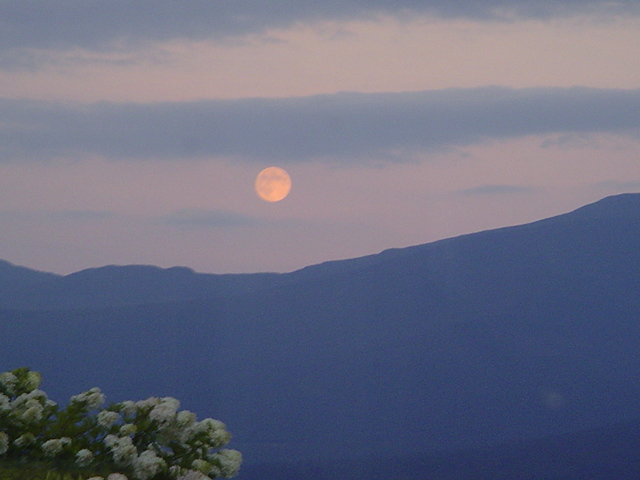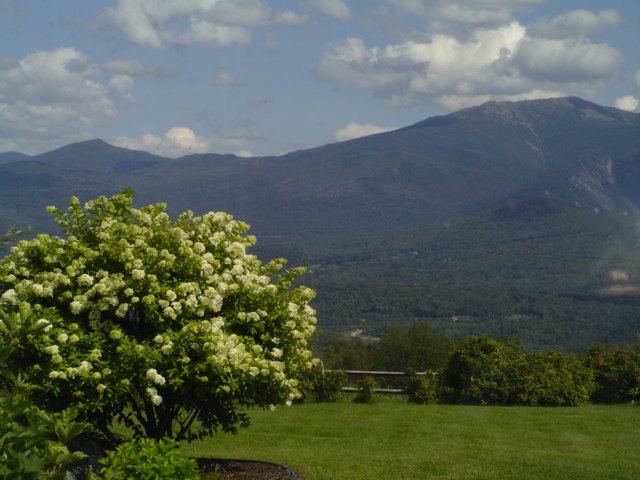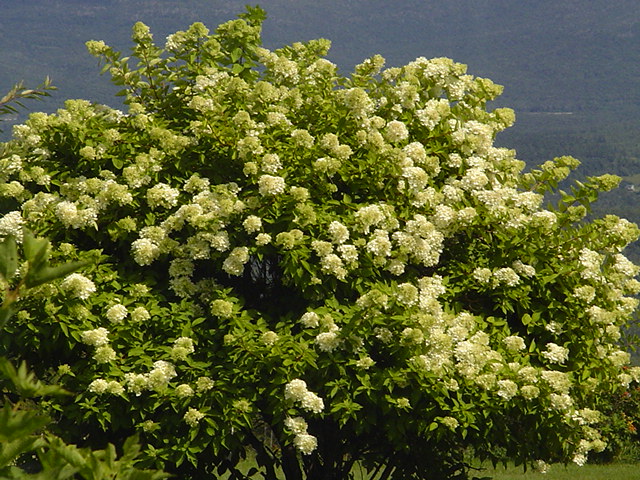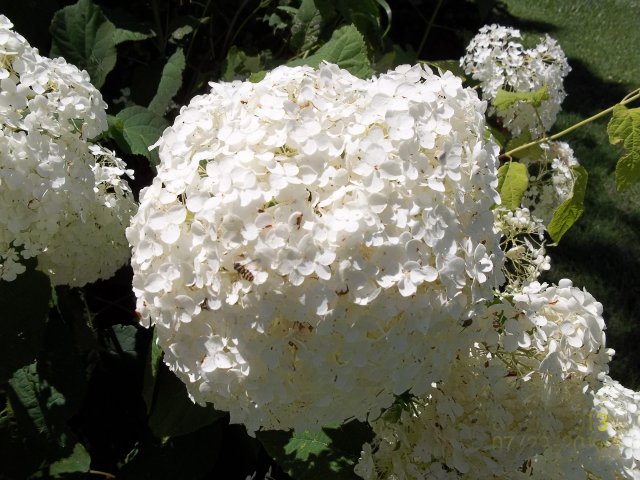 Hydrangeas early on are pure white, but later in September they turn to dirty pink
Some blossoms hang on the plant even in high blizzard winds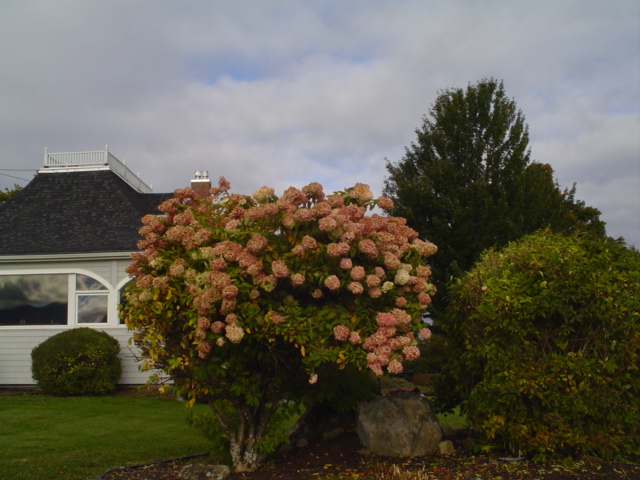 This week I feature Squam Lake in this Set 4 of my photographs of New England lakes.
This lake is about an hour from our cottage in New Hampshire's Lakes Region
The Native American name of the lake was Keeseenunknipe, but it is now better known as Golden Pond
The 1981 Oscar-Winning film On Golden Pond was filmed in Center Harbor on this lake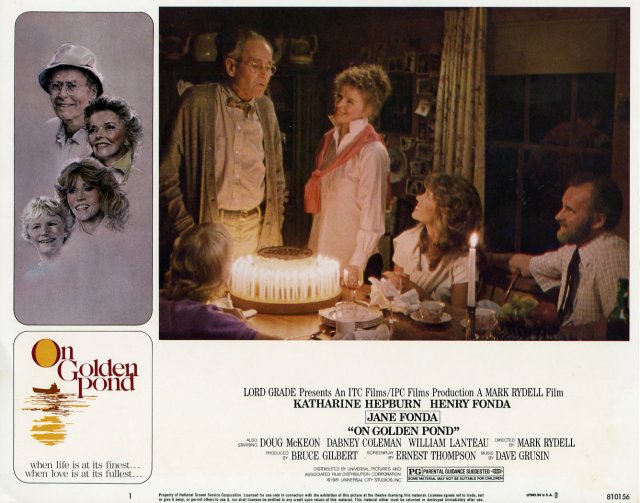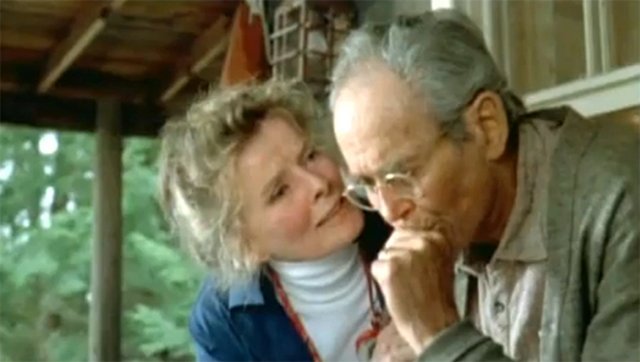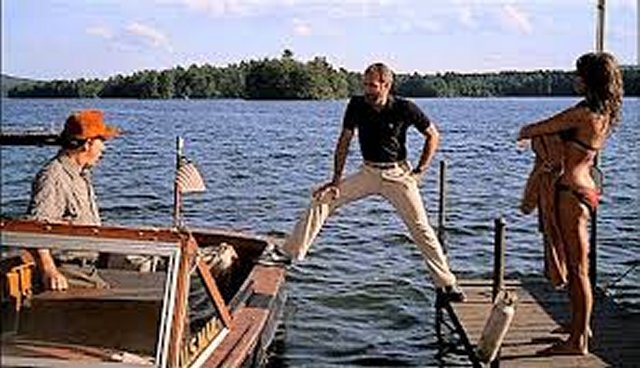 Humorous Video Clip of the Above Scene in the Movie ---
https://www.youtube.com/watch?v=-KUVXUGzKaE
On Golden Pond (1981) --- http://en.wikipedia.org/wiki/On_Golden_Pond_%281981_film%29
On Golden Pond Trivia --- http://www.imdb.com/title/tt0082846/trivia
Also see http://www.funtrivia.com/en/movies/on-golden-pond-9432.html
Also see http://www.mytripjournal.com/travel-705977
Perhaps the most memorable scene in the movie (actually a very symbolic scene) is a back flip dive that Jane Fonda's character Chelsea performs for the first time. In real life, Jane had to take lessons to learn this dive. When I was on the faculty at the University of Maine our very good friends had a daughter, Shirley, who was a Bangor High School swimming star. Shirley later married her swimming coach at Bangor High.
For several days before filming On Golden Pond Jane Fonda and her daughter visited Shirley and Shirley's coach-husband in Bangor, Maine to learn how to do the backflip dive that was to be, near the end of the film, one of the most important scenes in the script. Purportedly Jane was an excellent mother and very good guest in their home. She learned the dive that was later performed at the Squam Lake filming.
This is the kind of movie in which loons and sunsets and trout and Jane Fonda's backflip are used as emblems of survival and longevity and marital bliss and familial reconciliation.
http://stanford.dlconsulting.com/cgi-bin/stanford?a=d&d=stanford19820409-01.2.50&e=-------en-20--1--txt-txIN-------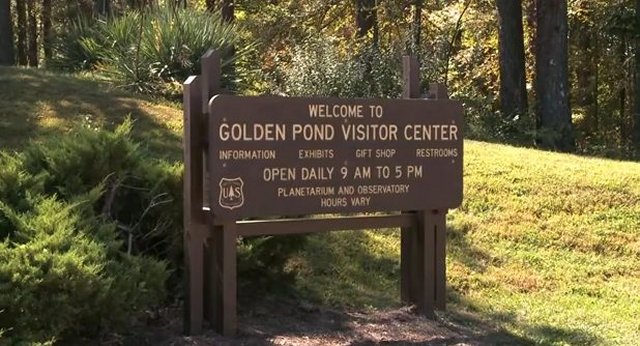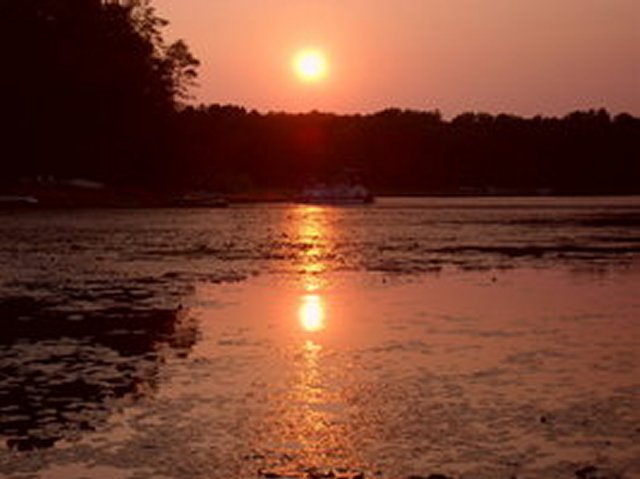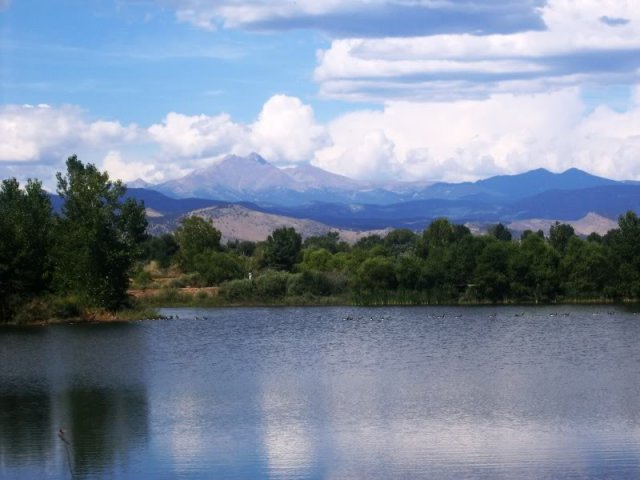 Squam Lake (after a long succession of earlier names) --- http://en.wikipedia.org/wiki/Squam_Lake
Squam Lake is a lake located in central New Hampshire, United States, south of the White Mountains, straddling the borders of Grafton, Carroll, and Belknap counties. The largest town center on the lake is Holderness. The lake is located northwest of much larger Lake Winnipesaukee.

It drains via a short natural channel into Little Squam Lake, and then through a dam at the head of the short Squam River into the Pemigewasset at Ashland. Covering 6,791 acres (27.48 km2),[1] Squam is the second-largest lake located entirely in New Hampshire.

Squam Lake was originally called Keeseenunknipee, which meant "the goose lake in the highlands". The white settlers that followed shortened the name to "Casumpa", "Kusumpy" and/or "Kesumpe" around 1779. In the early 19th century, the lake was given another Abenaki name, Asquam, which means "water". Finally, in the early 20th century, Asquam was shortened to its present version, Squam.

The 1981 film On Golden Pond was filmed in the town of Center Harbor on Squam Lake. There is one tour boat service offered by the Squam Lakes Natural Science Center, based in Holderness, that will show visitors where all the filming locations are situated, as well as items of natural significance.

Squam Lake is a nesting site for Common Loons and is a good place to see them in breeding plumage during the summer months. Bald Eagles and Great Blue Herons are also known to nest on the lake. Islands

Squam Lake has about 30 named islands and numerous smaller, unnamed islets. The named islands are:

Continued in article
Squam Lake is especially known for its loons --- http://en.wikipedia.org/wiki/Loon
Center Harbor Where On Golden Pond Was Filmed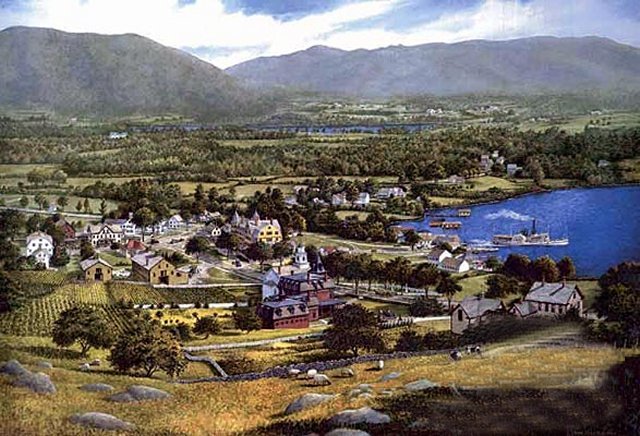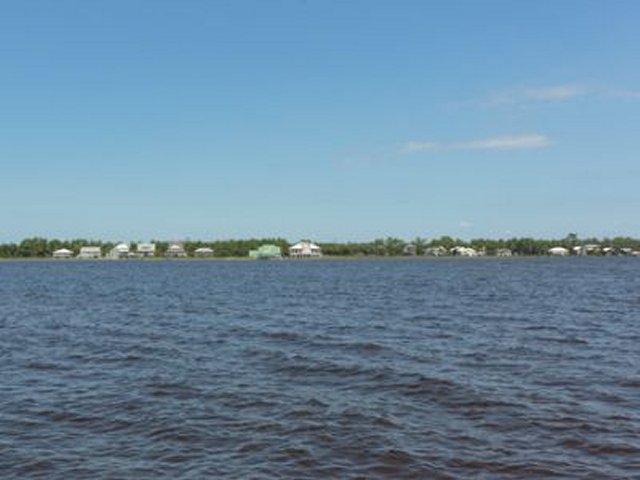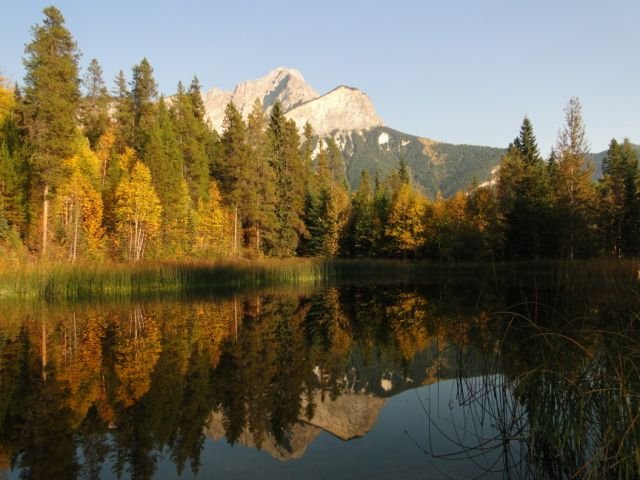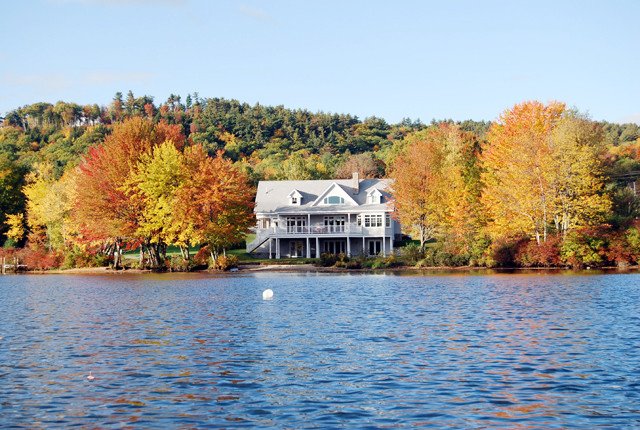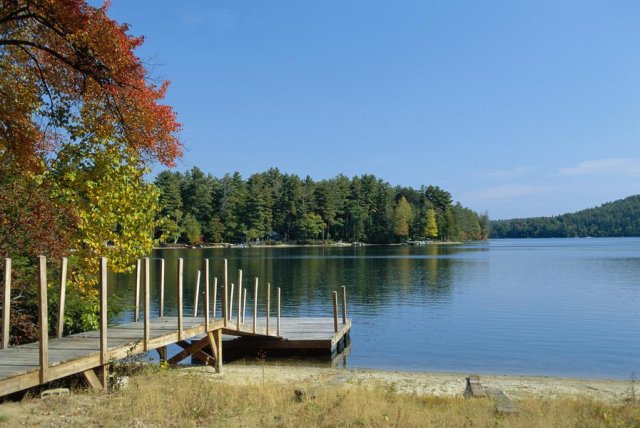 New Hampshire is called "The Granite State" for good reason
Put a shovel into the ground most anywhere, and it will hit a hard rock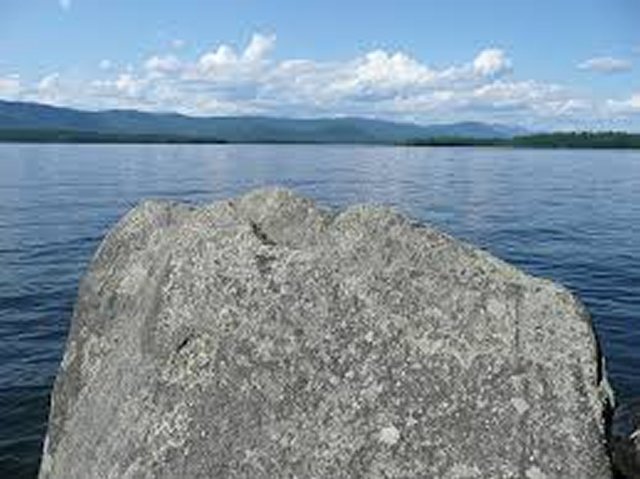 Squam Lake Cruises ---
http://www.nhnature.org/programs/lake_cruises.php
New Hampshire is called "The Granite State" partly because there are so many rocks
strewn across the entire state. After clearing the land, farmars next had to clear the rocks.
They piled these rocks along the edges of the fields, thus giving rise the New Hamshire's
famous rock walls that are now tourist attractions. Sadly in my yard and Wildflower Field
the rocks were beneath the surface were not cleared. I'm always hitting them with my shovels.
Here is a rock wall on a farm about a mile from our cottage on "Lovers' Lane"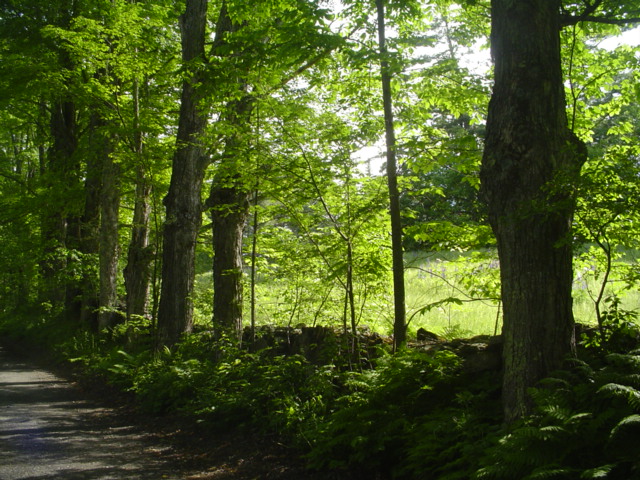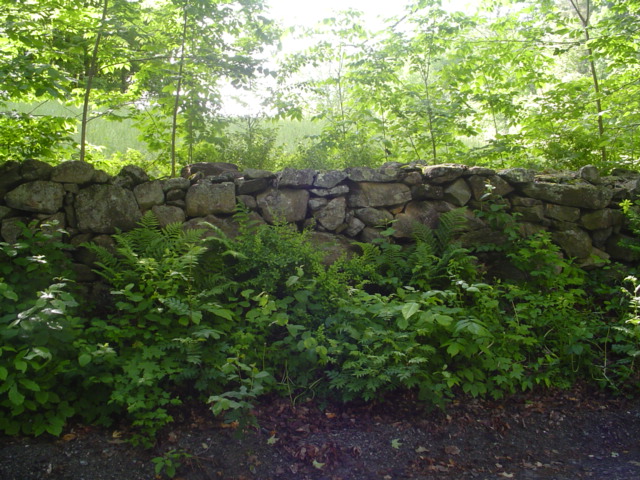 Bob Jensen's Photographs of Lake Winnipesaukee --- http://www.cs.trinity.edu/rjensen/tidbits/Lakes/Set01/LakesSet01.htm
Squam Lake is very close to Lake Winnipesaukee
Bob Jensen's Photographs of Lake Champlain --- http://www.cs.trinity.edu/rjensen/tidbits/Lakes/Set02/LakesSet02.htm
Bob Jensen's Photographs of Moosehead Lake --- http://www.cs.trinity.edu/rjensen/tidbits/Lakes/Set03/LakesSet03.htm
Bob Jensen's Photographs of Maine --- www.trinity.edu/rjensen/tidbits/States/Maine/Set01/Maine01.htm
Bob Jensen's Photographs of Vermont --- www.trinity.edu/rjensen/tidbits/States/Vermont/Set01/Vermont01.htm
Lakes in New Hampshire --- http://en.wikipedia.org/wiki/Lakes_in_New_Hampshire
Oceans in My Life (Including My Navy Days)
http://www.cs.trinity.edu/rjensen/Tidbits/Ocean/Set01/OceanSet01.htm
More of Bob Jensen's Pictures and Stories
http://faculty.trinity.edu/rjensen/Pictures.htm
On May 14, 2006 I retired from Trinity University after a long and wonderful career as an accounting professor in four universities. I was generously granted "Emeritus" status by the Trustees of Trinity University. My wife and I now live in a cottage in the White Mountains of New Hampshire ---
http://faculty.trinity.edu/rjensen/NHcottage/NHcottage.htm
Bob Jensen's Blogs
Current and past editions of my newsletter called New Bookmarks --- http://faculty.trinity.edu/rjensen/bookurl.htm
Current and past editions of my newsletter called Tidbits --- http://faculty.trinity.edu/rjensen/TidbitsDirectory.htm
Current and past editions of my newsletter called Fraud Updates --- http://faculty.trinity.edu/rjensen/FraudUpdates.htm
Bob Jensen's past presentations and lectures --- http://faculty.trinity.edu/rjensen/resume.htm#Presentations
Our address is 190 Sunset Hill Road, Sugar Hill, New Hampshire
Our cottage was known as the Brayton Cottage in the early 1900s
Sunset Hill is a ridge overlooking with New Hampshire's White Mountains to the East
and Vermont's Green Mountains to the West
Bob Jensen's Threads --- http://faculty.trinity.edu/rjensen/threads.htm
Bob Jensen's Home Page --- http://faculty.trinity.edu/rjensen/default.htm