Set 4 of Lupine Festival Season in June
Bob Jensen at Trinity University
I purchase a new and relatively cheap Cannon Elph camera in April. I will begin with some of the
first pictures taken on my new red Elph.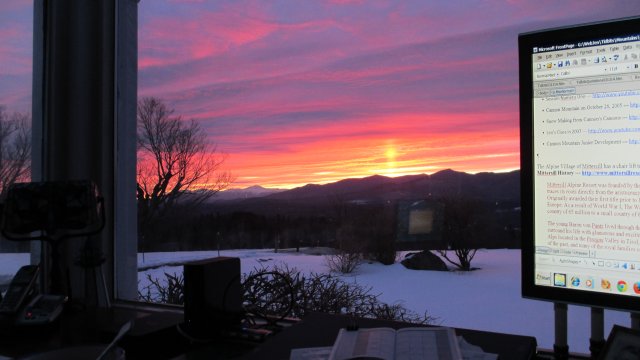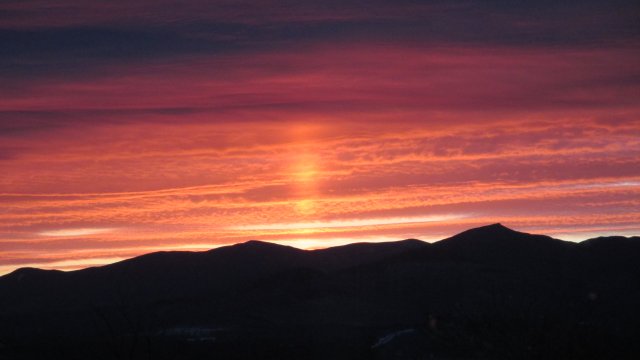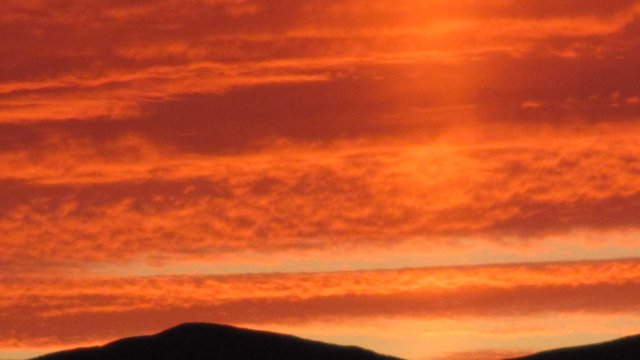 Between Mt. Garfield and Mt. Lafayette there's a bump known as the Baby's Cradle
When I took this picture a flying saucer was hovering over the baby
I did not retouch this or any of the other photographs herein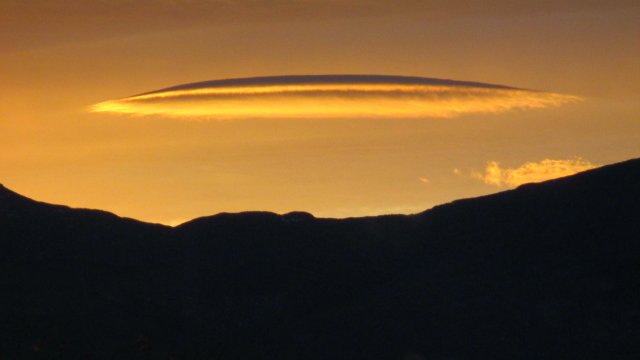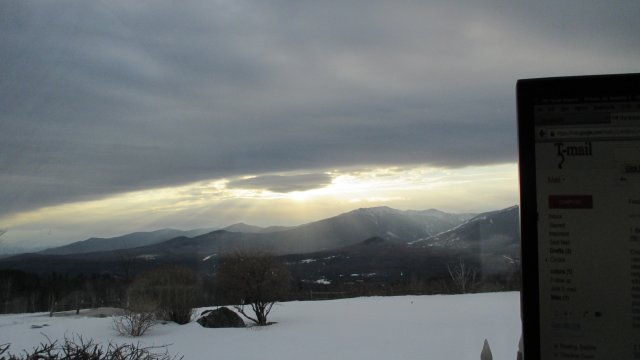 Note our the big maple tree beside my studio in April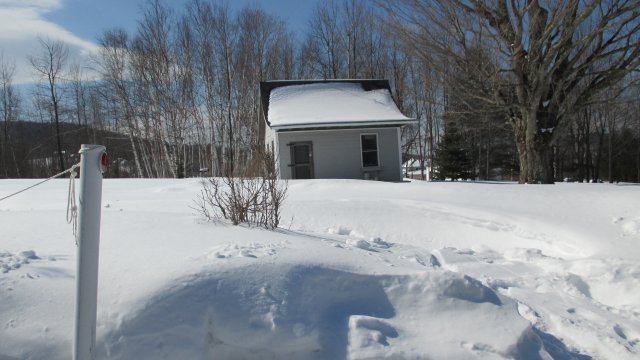 This is the same maple tree in June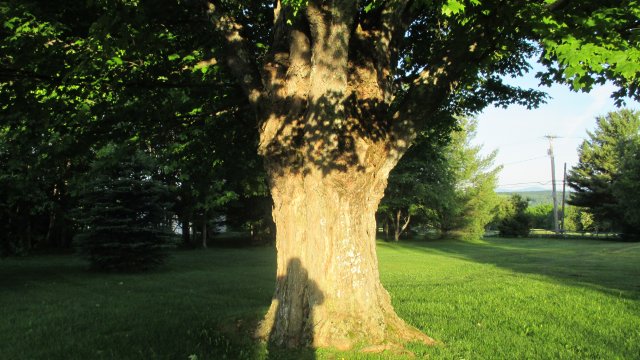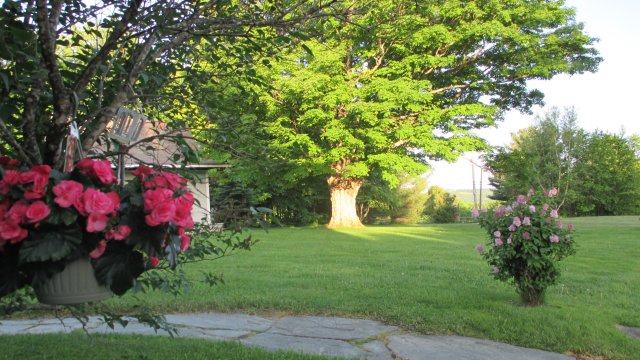 This is a picture that I took of our cottage in April with my new red Elph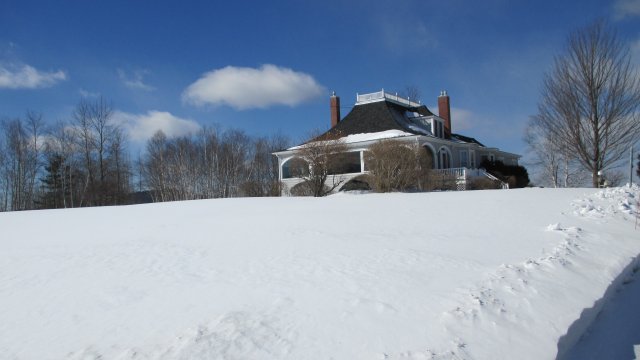 My photographer friend Wes Lavin took this picture of our cottage in June
In future editions of Tidbits I will feature some of the fine photographs take by Wes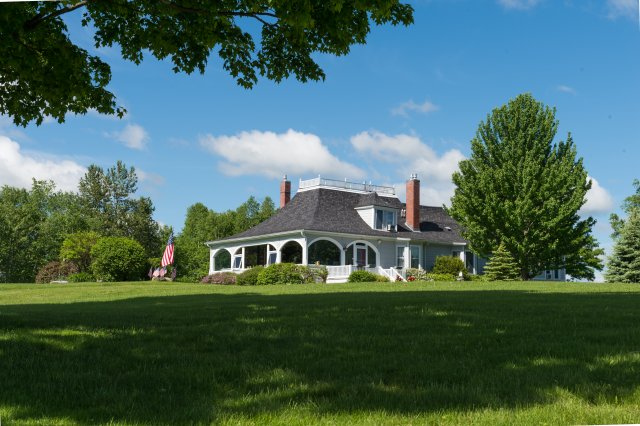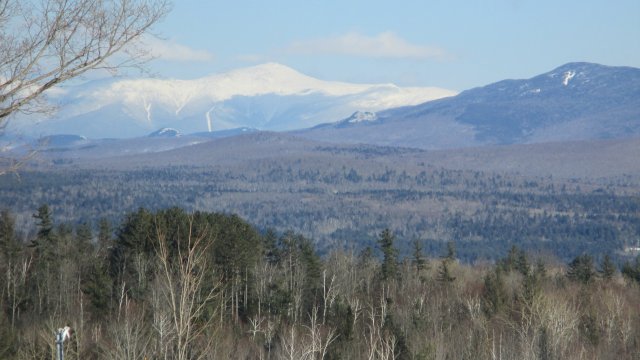 Great lilacs by our back stairs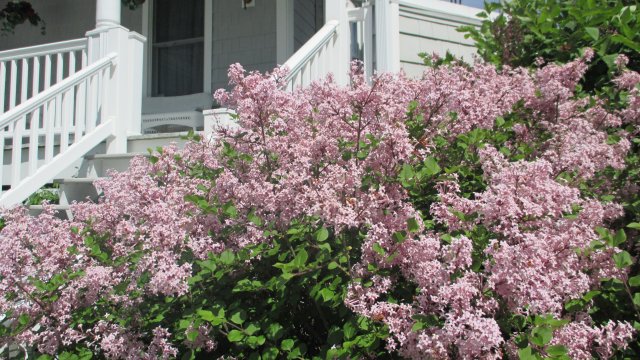 Instead of planting nearly 200 small New Guinea Impatiens this year
I planted 40 larger plants purchased in gallon pots
The heavily budded bush is a Polka Wegelia just beginning to bloom in June
The little round bird house in the upper left now has chattering baby house wrens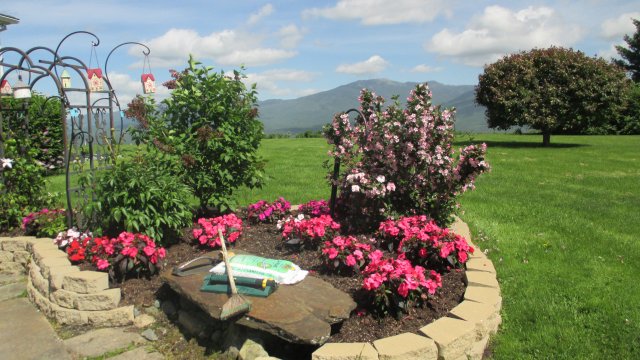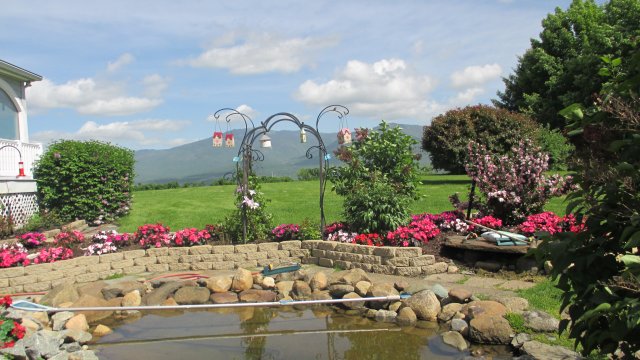 These are my big and beautiful clematis vine blossoms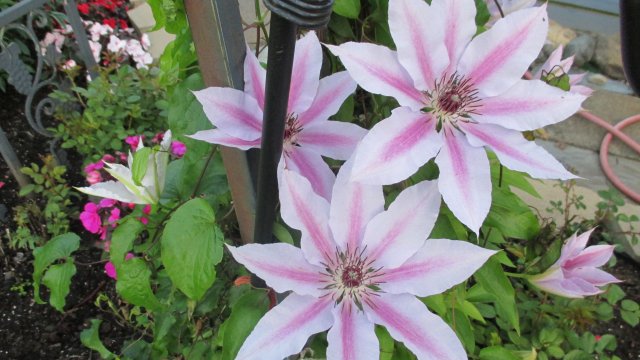 Every year there's a Lupine Festival in Sugar Hill. This was not a very good year for our lupines. I don't know the reason, but perhaps it was the long and cold winter followed by a very cool springtime in 2014. As I write this in June our furnace has been running almost every night since last October.
For a description of lupine fields along our road, go to http://www.photo.net/bboard/q-and-a-fetch-msg?msg_id=0027pL
There is a fantastic spot in northern New Hampshire for wildflowers with mountains on the horizon (though not usually covered in snow at that time of the year). Go to Sugar Hill, NH in mid-June for the lupine festival. From about June 10th to 17th there are fields of lupines that bloom beneath the White Mountains. In Sugar Hill on Sunset Road there is a 12 acre field completely filled lupines that has Cannon Mountain and Mt. Washington in the background. These lupines come in shades of blue, purple, white and pink. The attached image was taken at sunrise in the lupine field on Sunset Road in Sugar Hill. The back roads around Sugar Hill contain a number of spots where there are large concentrations of lupines, some strategically located near red barns and white churches. This spot is not only great for grand landscape shots, but is also macro photography heaven, the dew drops and little insects on the lupines also make great subjects. But be careful, one morning at sunrise I was intently photographing the sunrise and moved towards a tree to include it in my shot. I startled a mother moose and calf who I did not realize were on the other side of the tree and they ran right in front of me. Of course having a 17-35mm lens on my camera with an ND grad and polarizing filter made it a little tough to get a good shot of the moose.

About 5 miles away is Franconia Notch state park where there are lots of nice waterfall opportunities, my favorites include The Basin, the Falling Waters Trail (Stair Falls and Cloudland Falls are both wonderful) and the Flume.

This area in early to mid-June can't be beat. To do grand landscape photography in New England requires a little more work than in the national parks out west, but Sugar Hill is one of the better locations in New England for the kind of photography you are interested in.

-- Ed McGuirk , April 06, 2002; 06:15 A.M. Eastern
Our wildflower field south of our woods had only fair lupine blooms this year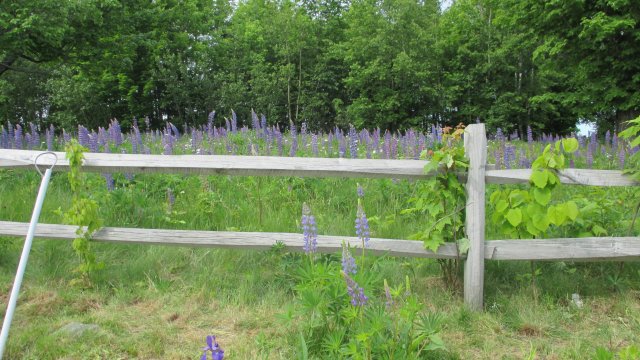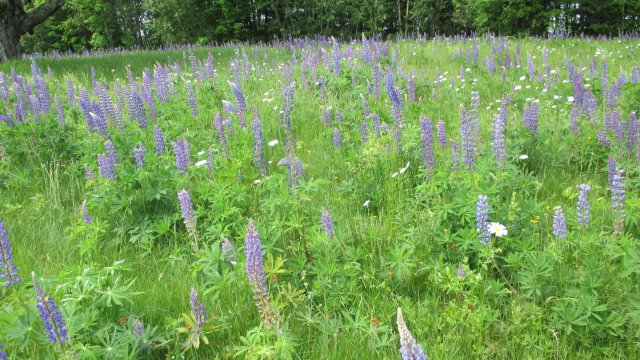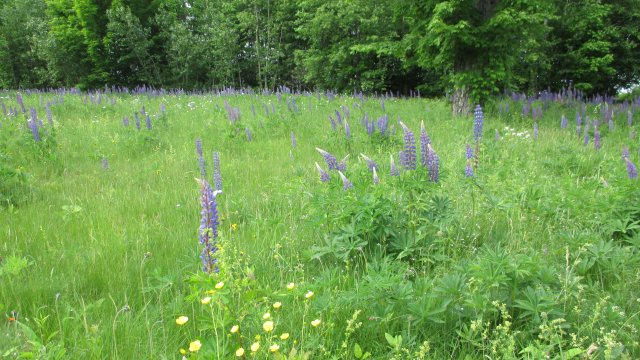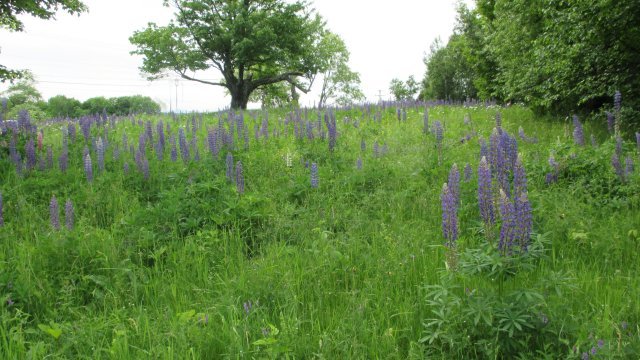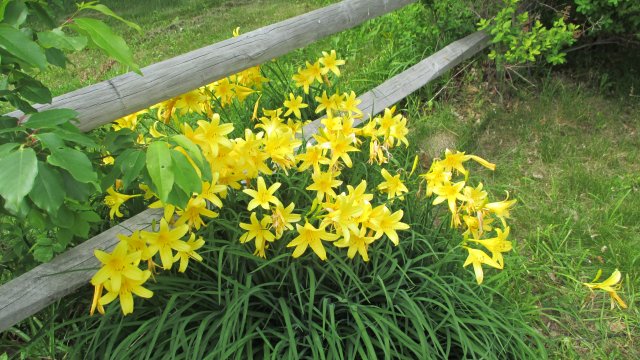 Our wild roses always seem to have a great summer
In future editions of Tidbits I will feature our wild roses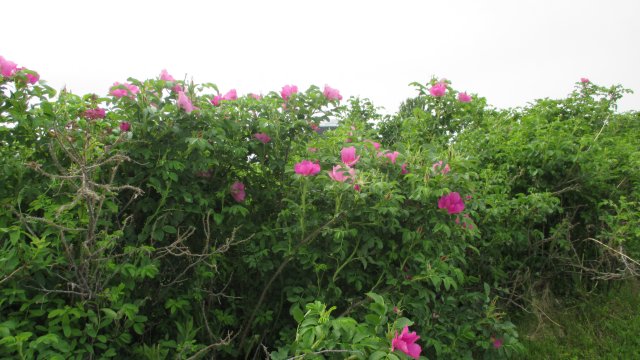 Our wildflower field showing the lupine above is across from historic mountain hotel called the Sunset Hill House
In May a bank sadly took over the hotel and its land and its golf course
On June 17, 2014 here was an auction that failed to get bids in the neighborhood of $2 million hoped for by the bank
The bank then refused all bids and is still trying to sell the hotel and contents and land and the golf course
(actually the golf course land is restricted to being only a golf course or a forest)
The far the bank is maintaining the closed golf course
The previous owners spent quite a lot of money on a new heating system and 15 solar panels for hot water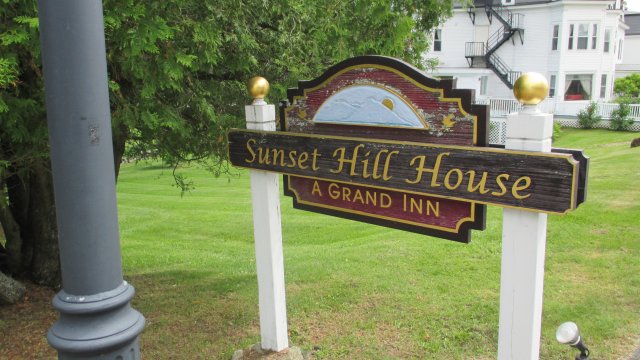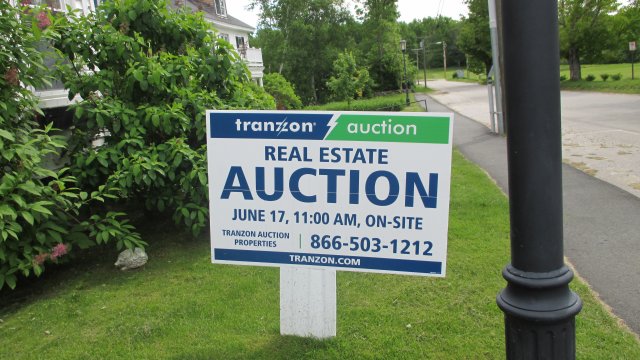 This is an distant photograph of the hotel
The hotel, the fine restaurant, and its golf course are closed until further notice
The hotel has quite a lot of land
The ski trails of Cannon Mountain are shown on the near side of Franconia Notch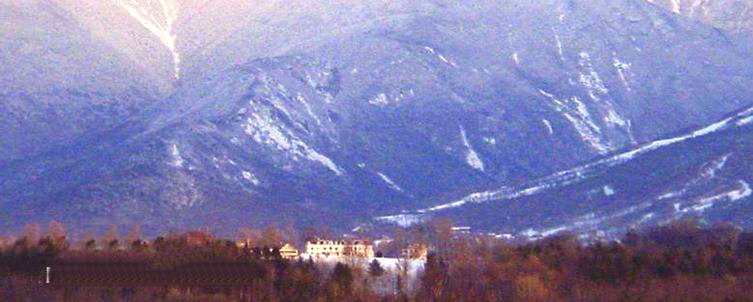 This hotel at one time housed the help for a much the much larger Sunset Hill Resort
The bigger hotel, casino, bowling alley, and other outbuildings were torn down in 1973

A Bit of History
Sunset Hill Hotel Resort History Set 01 ---
http://www.trinity.edu/rjensen/tidbits/CottageHistory/Hotel/Brochure/Brochure1900.htm

After the Sunset Hill Hotel Resort was nearly all demolished in 1973, our cottage (before it was ours)
was moved in 1977 from the golf course across a tennis court and up to where the former hotel site.
I show pictures of the preparation work prior to the moving the cottage and its four fireplaces
http://www.trinity.edu/rjensen/Tidbits/CottageHistory/OldSite/Set01/Set01.htm

Next I show pictures of the move to the new site
http://www.trinity.edu/rjensen/Tidbits/CottageHistory/NewSite/Set01/Set01.htm

Next I show the pictures of a 1980 spectacular fire on one of the remaining three cottages
www.trinity.edu/rjensen/tidbits/CottageHistory/Fire/FireSet01.htm

History of the White Mountains and Their Notches/Parks/Trails --- See Mountains
Set 1 Photographs of the Lupine Festival in Sugar Hill --- http://www.trinity.edu/rjensen/tidbits/Lupine/Set01/LupineSet01.htm
Set 2 Photographs of the Lupine Festival in Sugar Hill --- http://www.trinity.edu/rjensen/tidbits/Lupine/Set02/LupineSet02.htm
Set 3 Photographs of the Lupine Festival in Sugar Hill --- http://www.trinity.edu/rjensen/tidbits/Lupine/Set03/LupineSet03.htm
Set 4 Photographs of the Lupine Festival in Sugar Hill --- http://www.trinity.edu/rjensen/tidbits/Lupine/Set04/LupineSet04.htm
Wildflowers Set 1 --- http://www.trinity.edu/rjensen/Tidbits/Wildflowers/Set01/WildFlowersSet01.htm
Erika's Flowers of the Field --- http://www.trinity.edu/rjensen/tidbits/2008/tidbits080625.htm
A Walk Down Lovers Lane --- http://www.trinity.edu/rjensen/tidbits/2009/tidbits090623.htm
Texas Wildflowers Set 1 --- http://www.trinity.edu/rjensen/tidbits/Wildflowers/Texas/WildflowersTexas.htm
Texas Wildflowers Set 3 --- http://www.trinity.edu/rjensen/Tidbits/Wildflowers/Texas02/TexasWildflowersSet02.htm
Our cottage's history ---
http://www.trinity.edu/rjensen/tidbits/CottageHistory/Hotel/Brochure/Brochure1900.htm
More of Bob Jensen's Pictures and Stories
http://www.trinity.edu/rjensen/Pictures.htm
On May 14, 2006 I retired from Trinity University after a long and wonderful career as an accounting professor in four universities. I was generously granted "Emeritus" status by the Trustees of Trinity University. My wife and I now live in a cottage in the White Mountains of New Hampshire ---
http://www.trinity.edu/rjensen/NHcottage/NHcottage.htm
Bob Jensen's Blogs --- http://www.trinity.edu/rjensen/JensenBlogs.htm
Current and past editions of my newsletter called New Bookmarks --- http://www.trinity.edu/rjensen/bookurl.htm
Current and past editions of my newsletter called Tidbits --- http://www.trinity.edu/rjensen/TidbitsDirectory.htm
Current and past editions of my newsletter called Fraud Updates --- http://www.trinity.edu/rjensen/FraudUpdates.htm
Bob Jensen's past presentations and lectures --- http://www.trinity.edu/rjensen/resume.htm#Presentations
Our address is 190 Sunset Hill Road, Sugar Hill, New Hampshire
Our cottage was known as the Brayton Cottage in the early 1900s
Sunset Hill is a ridge overlooking with New Hampshire's White Mountains to the East
and Vermont's Green Mountains to the West
Bob Jensen's Threads --- http://www.trinity.edu/rjensen/threads.htm
Bob Jensen's Home Page --- http://www.trinity.edu/rjensen/