Set 1 of Storms in the White Mountains of New Hampshire
Bob Jensen at Trinity University
Mt. Washington is 28 miles from our cottage. The weather station at the summit experiences some of the
worst storms in the world year around. There can be ice storms throughout the summer with winds
commonly exceeding 100 mph ---
https://en.wikipedia.org/wiki/Mount_Washington_(New_Hampshire)
The summit station of Mount Washington has an alpine climate or tundra climate , although it receives an extremely high amount of precipitation, atypical for most regions with such cold weather. Lower elevations have a subarctic climate.

The weather of Mount Washington is notoriously erratic. This is partly due to the convergence of several storm tracks, mainly from the Atlantic to the south, the Gulf region and the Pacific Northwest. The vertical rise of the Presidential Range, combined with its north-south orientation, makes it a significant barrier to westerly winds. Low-pressure areas are more favorable to develop along the coastline in the winter due to the relative temperature differences between the Northeastern United States and the Atlantic Ocean. With these factors combined, hurricane-force wind gusts are observed from the summit of the mountain on average of 110 days per year.

Mount Washington once held the world record and still holds the Northern Hemisphere and Western Hemisphere record for directly measured surface wind speed, at 231 mph (372 km/h), recorded on the afternoon of April 12, 1934. A new wind speed record was discovered in 2009: on April 10, 1996, Tropical Cyclone Olivia had created a wind gust of 408 km/h (254 mph) at Barrow Island off the coast of Western Australia.] (Satellite and radar measurements, e.g. of tornadoes, hurricanes, and air currents in the upper atmosphere, do not compete with records for surface measurements.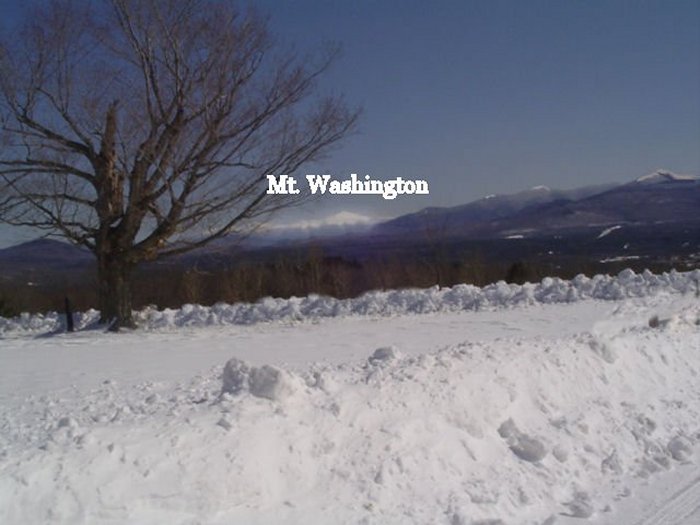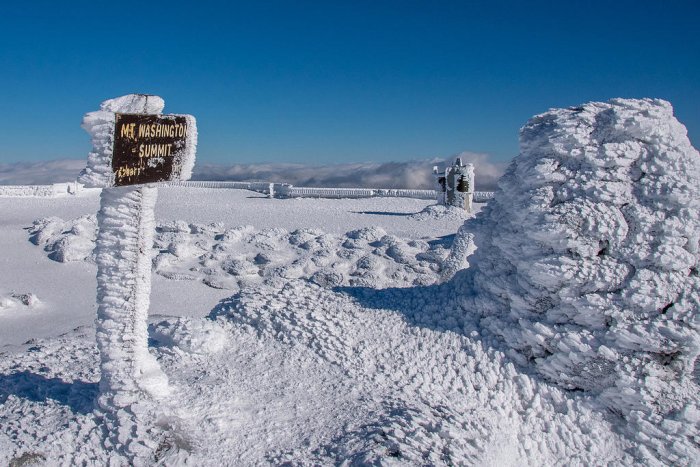 Although the White Mountains of New Hampshire are not prone to tornado storms we get
storms with enormous winds that up here are called wind shears or gusts that briefly have tornado-like wind speeds
Wind shears will uproot trees and break off the tops of trees, leaving those tops dangling in the lower branches
This was the view from my barn on October 11, 2013 following a wind shear that left
the tops of trees dangling like you see below in my birch grove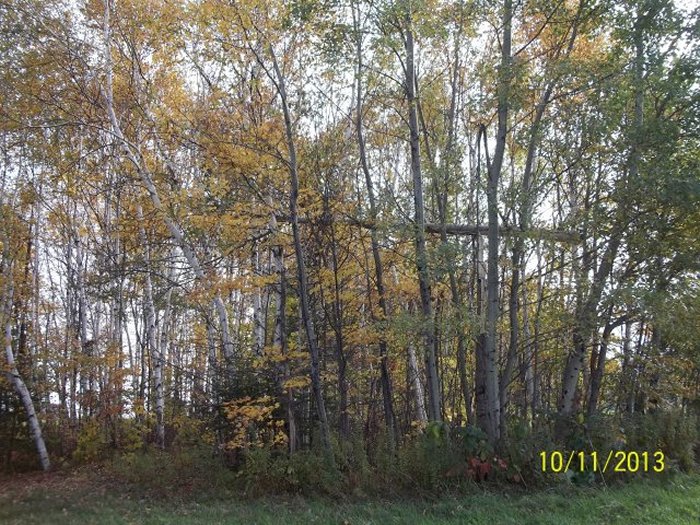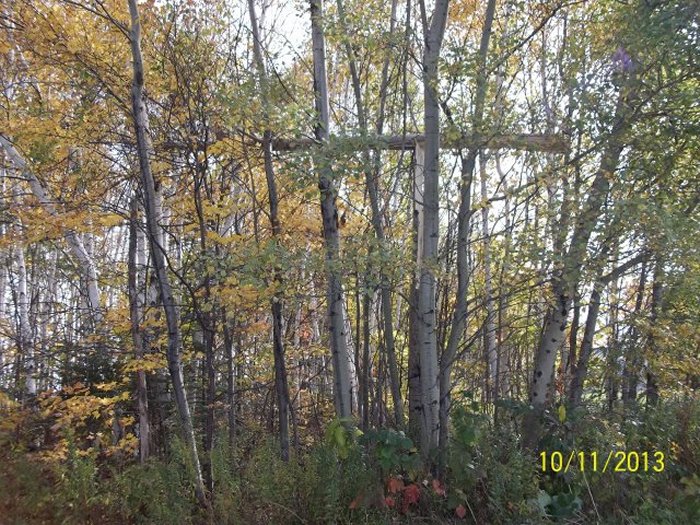 Another powerful storm split a big maple tree in our wildflower field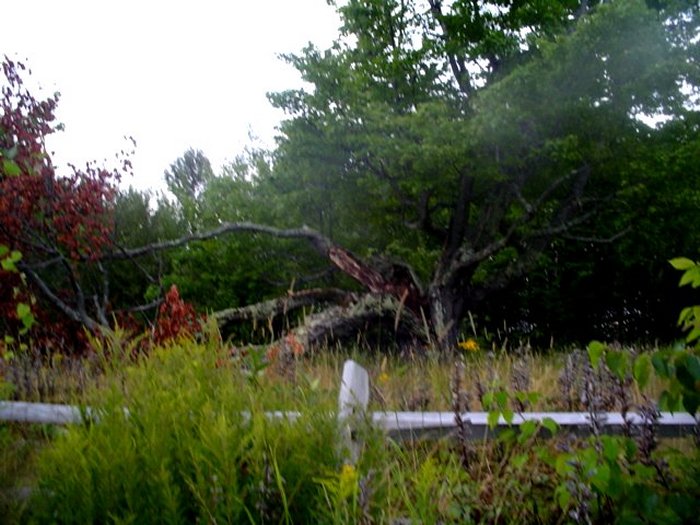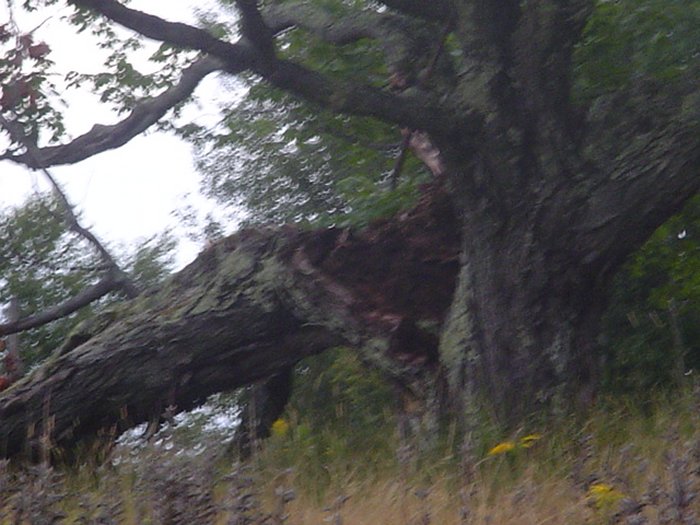 Sometimes the wind is so strong that it whips the snow into a textured mosaic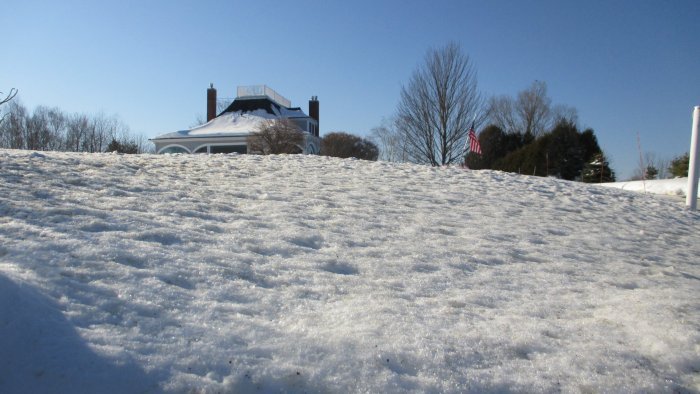 Sometimes a storm cloud will just hang low over our cottage in a calm before the wind commences to howl
This is the view from my desk onesummer day before a storm commenced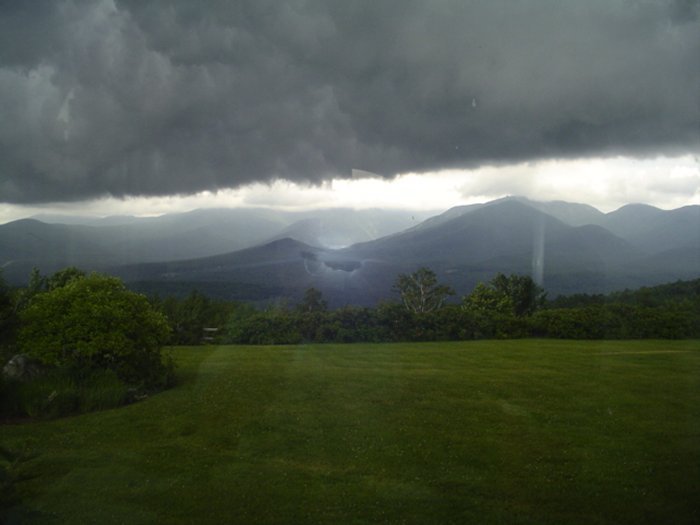 The photograph below shows wood carvings that Erika brought back from Germany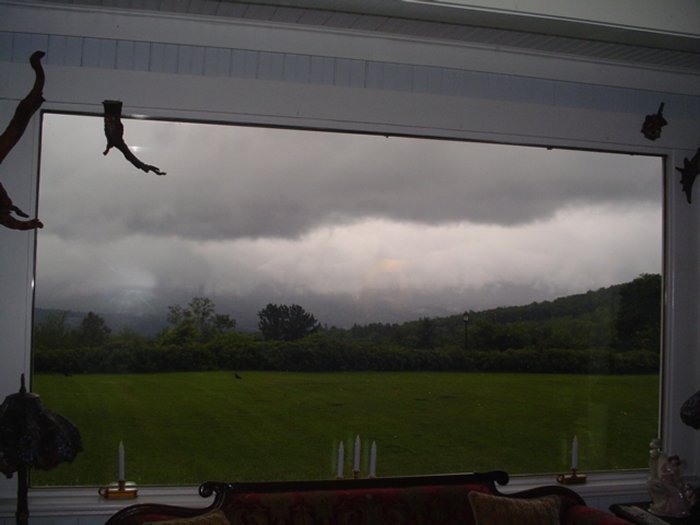 The photograph below shows a storm cloud hanging over
Franconia Notch that separates Mt. Lafayette from Cannon Mountain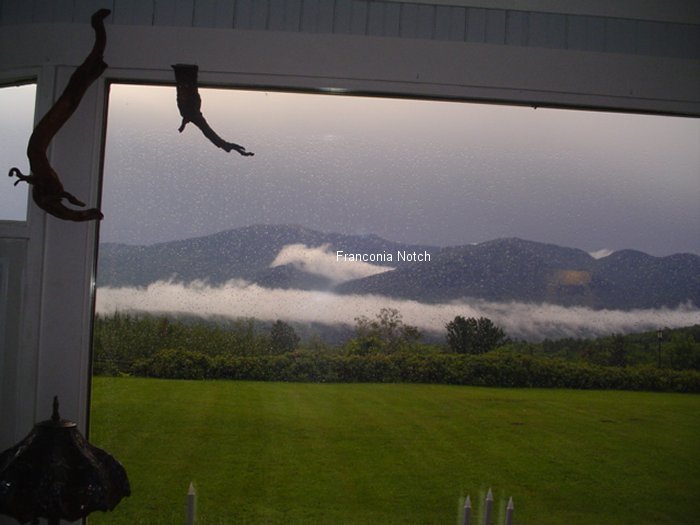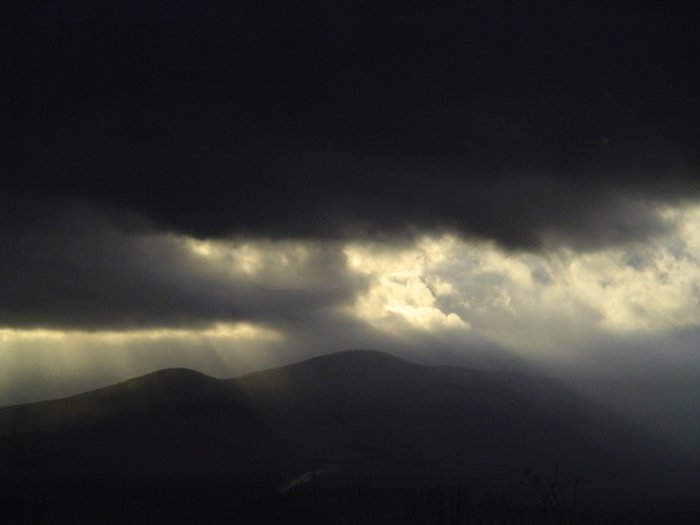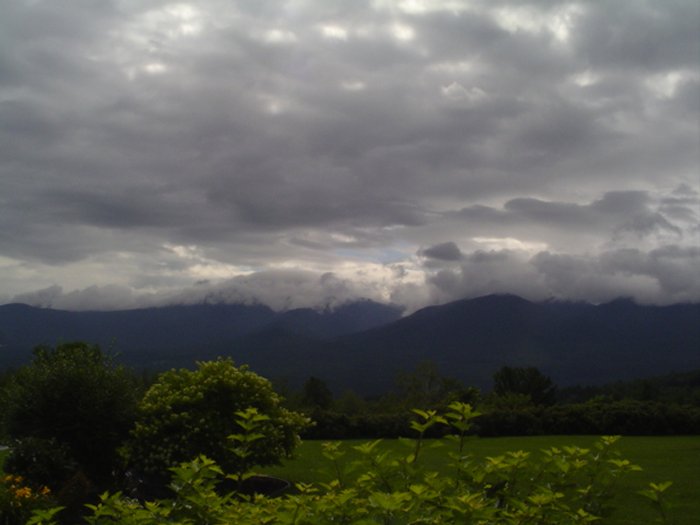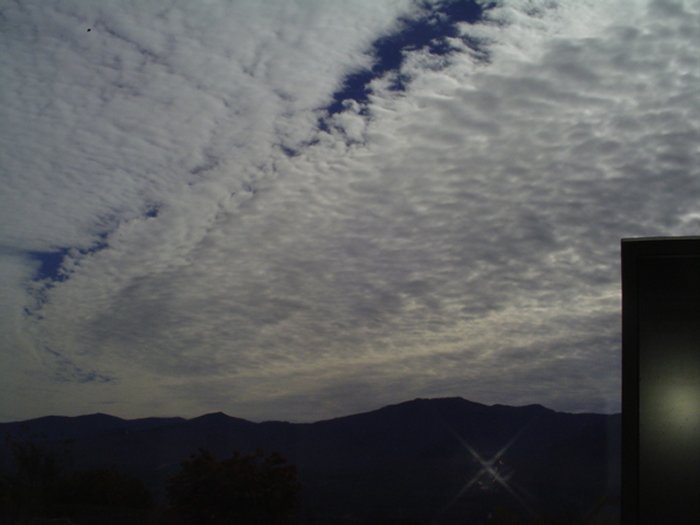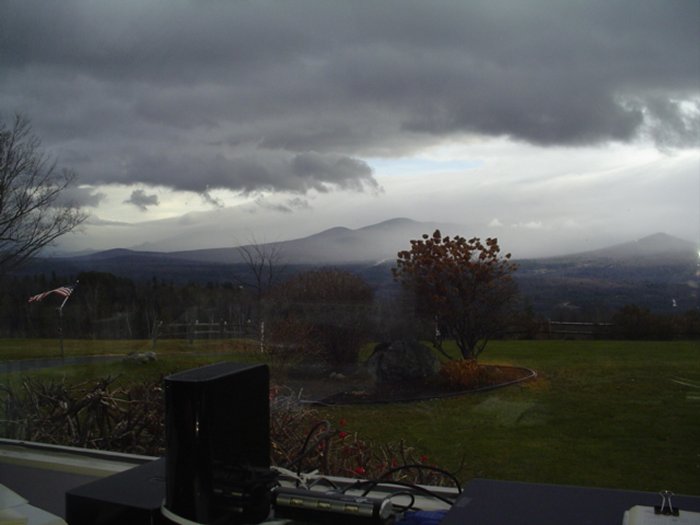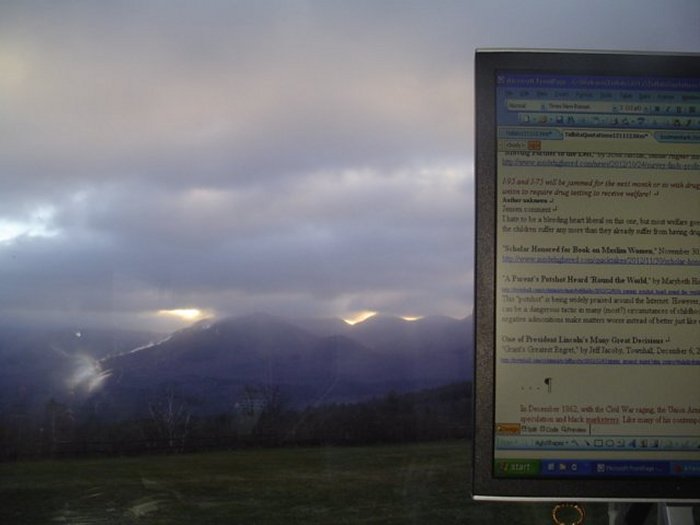 The photograph below shows how a powerful wind tore loose the bottom part of my flag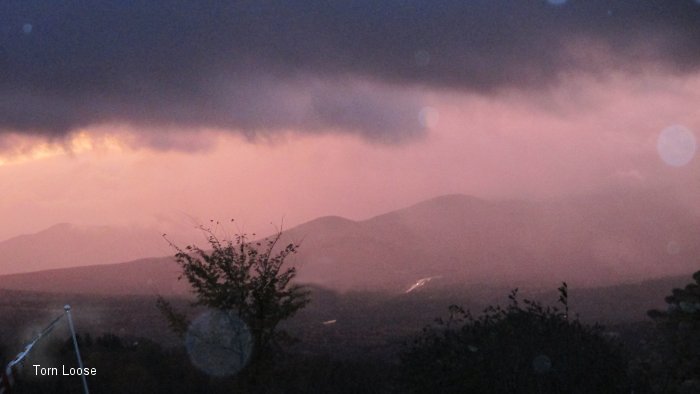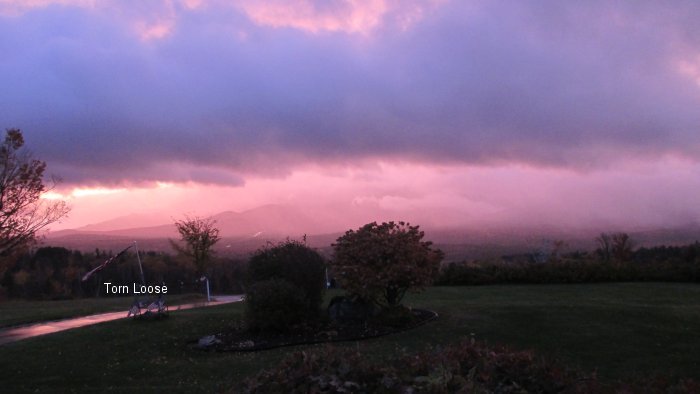 My neighbor down the road has to replace his flag at least once each year due to our frequent high winds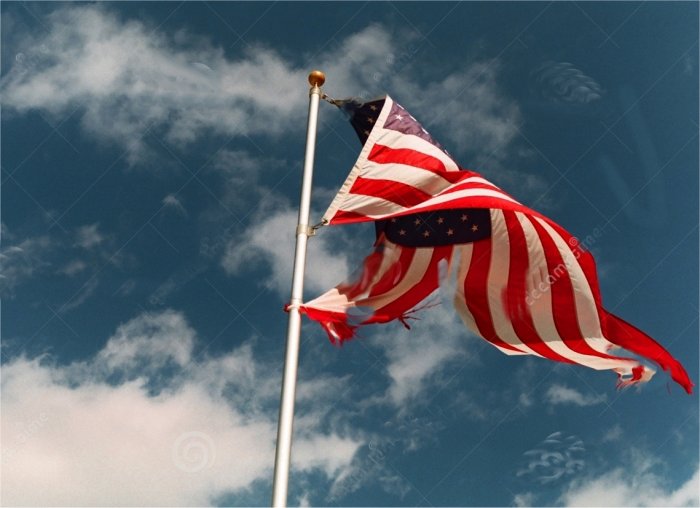 Until recently the Homestead Inn operated for well over a century about a half mile from our cottage
Below is a historic picture of the front of this inn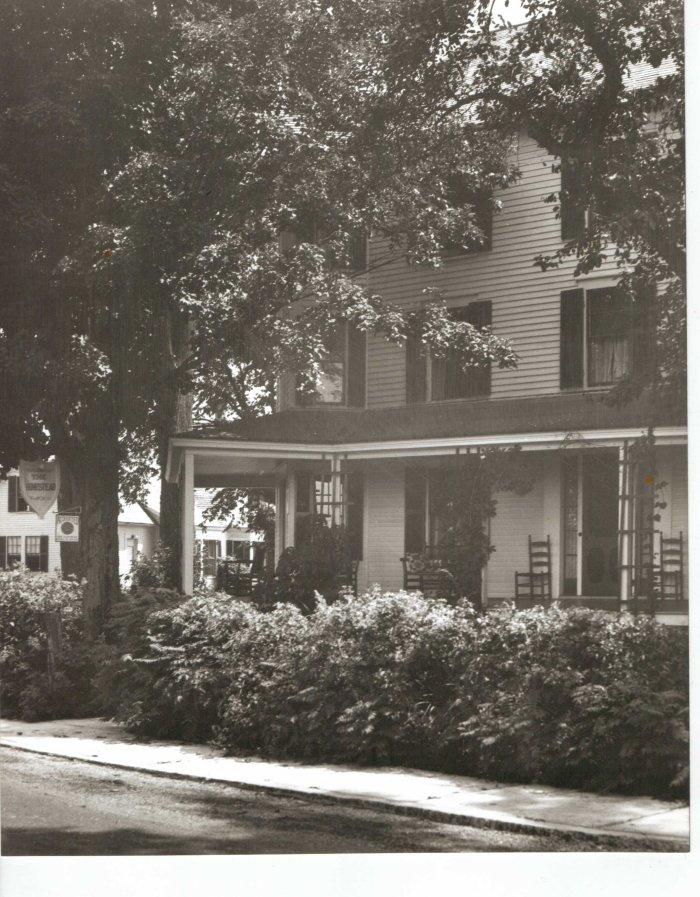 In the meantime a maple tree replaced the elm trees and became quite large
After a strong wind storm I took this picture of the fallen maple tree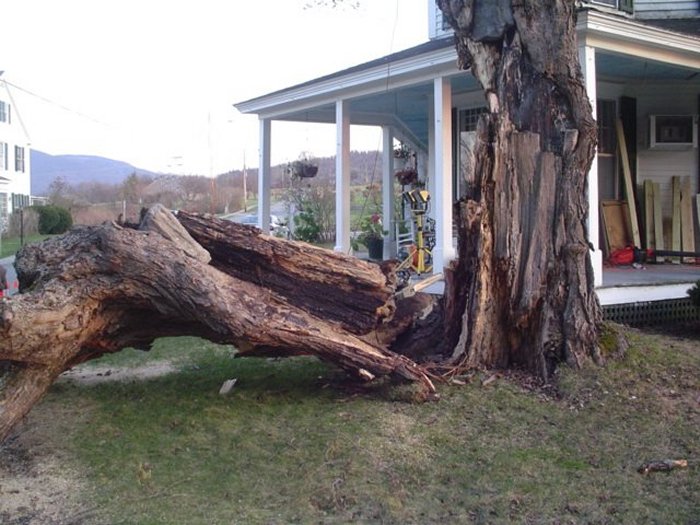 Several years later the two remaining buildings of the Homestead Inn were taken down
Part 1 of the History of the Homestead Inn Torn Down in 2015
http://faculty.trinity.edu/rjensen/Tidbits/Hotels/Homestead/Set01/Set01.htm
Part 2 of the History of the Homestead Inn
http://faculty.trinity.edu/rjensen/Tidbits/Hotels/Homestead/Set02/Set02.htm
The Sugar Hill Sampler --- http://www.cs.trinity.edu/rjensen/Tidbits/2009/Tidbits090303.htm
Photographs of the Summit of Mt Washington
http://faculty.trinity.edu/rjensen/Tidbits/CogRailroad/History1/CogRailroadHistory.htm

http://faculty.trinity.edu/rjensen/Tidbits/Mountains/HistoryWhiteMountains/01/HistoryWhiteMoutains01.htm
Clouds of the White Mountains
First Set of White Mountain Cloud Favorite Photographs
http://faculty.trinity.edu/rjensen/tidbits/CloudFavorites/Set01/Clouds01.htm

Second Set of White Mountain Cloud Favorite Photographs
http://faculty.trinity.edu/rjensen/Tidbits/CloudFavorites/Set02/CloudFavoritesSet02.htm

Third Set of White Mountain Cloud Favorite Photographs
http://faculty.trinity.edu/rjensen/tidbits/CloudFavorites/Set03/Clouds03.htm

Fourth Set of White Mountain Cloud Favorite Photographs
http://faculty.trinity.edu/rjensen/tidbits/CloudFavorites/Set04/Clouds04.htm
More of Bob Jensen's Pictures and Stories
http://faculty.trinity.edu/rjensen/Pictures.htm
White Mountain News --- http://www.whitemtnews.com/
On May 14, 2006 I retired from Trinity University after a long and wonderful career as an accounting professor in four universities. I was generously granted "Emeritus" status by the Trustees of Trinity University. My wife and I now live in a cottage in the White Mountains of New Hampshire ---
http://faculty.trinity.edu/rjensen/NHcottage/NHcottage.htm
Bob Jensen's Blogs --- http://faculty.trinity.edu/rjensen/JensenBlogs.htm
Current and past editions of my newsletter called New Bookmarks --- http://faculty.trinity.edu/rjensen/bookurl.htm
Current and past editions of my newsletter called Tidbits --- http://faculty.trinity.edu/rjensen/TidbitsDirectory.htm
Current and past editions of my newsletter called Fraud Updates --- http://faculty.trinity.edu/rjensen/FraudUpdates.htm
Bob Jensen's past presentations and lectures --- http://faculty.trinity.edu/rjensen/resume.htm#Presentations
Our address is 190 Sunset Hill Road, Sugar Hill, New Hampshire
Our cottage was known as the Brayton Cottage in the early 1900s
Sunset Hill is a ridge overlooking with New Hampshire's White Mountains to the East
and Vermont's Green Mountains to the West
New Hampshire Historical Society --- http://www.nhhistory.org
Clement Moran Photography Collection (antique New Hampshire photographs) --- Click Here
http://www.library.unh.edu/digital/islandora/solr/search/moran/1/category%3APhotographs~slsh~Clement%5C%20Moran%5C%20Collection%2A~/dismax
Bob Jensen's Threads --- http://faculty.trinity.edu/rjensen/threads.htm
Bob Jensen's Home Page --- http://faculty.trinity.edu/rjensen/